Phillies Fans and the Under-Appreciation of Ryan Howard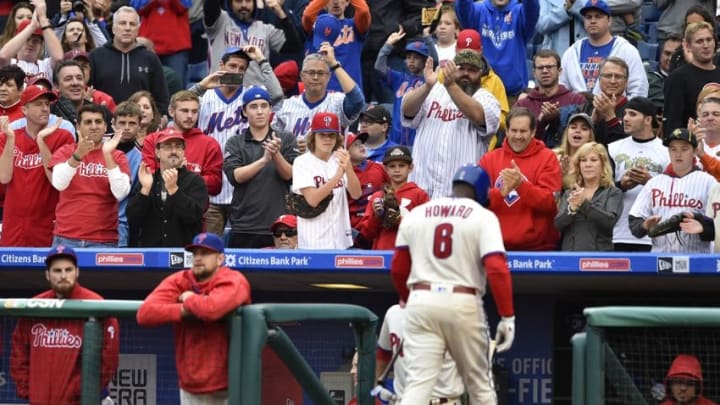 Oct 1, 2016; Philadelphia, PA, USA; Fans give Philadelphia Phillies first baseman Ryan Howard (6) a standing ovation after striking out during the ninth inning against the New York Mets at Citizens Bank Park. The Mets won 5-3. Mandatory Credit: Derik Hamilton-USA TODAY Sports /
Aug 21, 2016; Philadelphia, PA, USA; Philadelphia Phillies first baseman Ryan Howard (6) on deck against the St. Louis Cardinals at Citizens Bank Park. Mandatory Credit: Eric Hartline-USA TODAY Sports /
2009 and 2011 Postseasons
Every once in awhile, a fan will tell me that if it weren't for Howard's performances in 2009 and 2011, the Phillies would have won another title. I will clarify this one right away. Howard was awful in the 2009 World Series, and his 2011 final at bat was symbolic of the end of the run. I am not blind to that.
More from Phillies News
"Mike, he struck out 13 times in the 2009 World Series," they tell me. I know that, but outside of Carlos Ruiz, Raul Ibanez, and Chase Utley, no one really hit in that Yankees series. I get that Howard gets paid to hit. I don't need people reminding me of that, but the guy carried this team many times before. Just that postseason, he cashed in the important hit in Colorado to tie the game.
We all remember the infamous "Get me to the plate, boys" moment. He also won the NLCS MVP that season.
Do I need to remind everyone about the countless September months he put the entire team on his back to carry them into the playoffs? In 2007, he carried a 1.043 OPS with 11 homers, 26, RBI, and 18 runs scored through the month of September.
Then, there was the 2008 season when he powered his way to 11 bombs, 32 RBI, 18 runs, and a ridiculous .352/.422/.852 throughout the month of September. Those two seasons were arguably the most exciting seasons with the comeback division championships over the Mets, and they probably do not happen without Piece, so keep that in mind.