Phillies Fans and the Under-Appreciation of Ryan Howard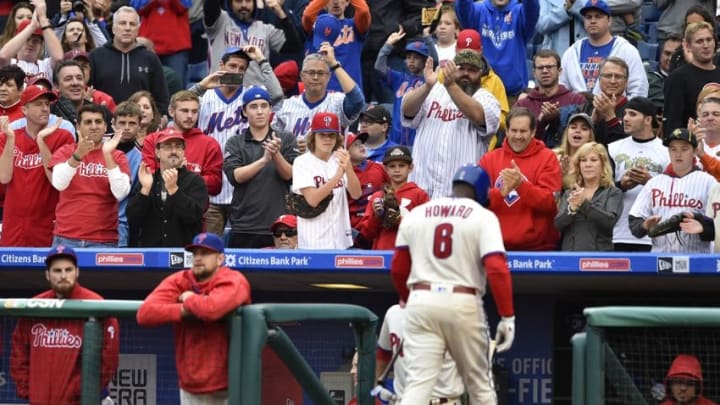 Oct 1, 2016; Philadelphia, PA, USA; Fans give Philadelphia Phillies first baseman Ryan Howard (6) a standing ovation after striking out during the ninth inning against the New York Mets at Citizens Bank Park. The Mets won 5-3. Mandatory Credit: Derik Hamilton-USA TODAY Sports /
May 30, 2016; Philadelphia, PA, USA; Philadelphia Phillies first baseman Ryan Howard (6) talks with shortstop Freddy Galvis (13) against the Washington Nationals at Citizens Bank Park. The Washington Nationals won 4-3. Mandatory Credit: Bill Streicher-USA TODAY Sports /
Injuries
It is not much of a secret that Howard has been derailed by leg injuries in the later parts of his career. It dates back to his ankle sprain in early August of 2010. He had trouble regaining power from that moment. Without that injury, one could argue that he would have reached 40 dingers that season. After that, he struggled to get to 30 in 2011 and ended the season with the torn achilles injury.
From that point, everything has changed for Howard. He only played 71 games in 2012 and 80 games in 2013 as a result of a torn meniscus in his left knee. The numbers have never recovered, but that could have been predicted. Anyone familiar with effectively hitting a baseball knows that much of the power is generated in a hitter's lower half. After a severe ankle injury, a tear to his Achilles tendon, and one to his knee, the lack of power was not in doubt.
What most people lose sight of is the amount of games Howard was present during the run. He played 150 or more games, including 162 in 2008, in four of the six seasons during their success (including 2006). In the two seasons in which he did not play that amount, he was still on the field over 140 times. He still played 143 games in 2010 despite banging up his ankle.