Phillies Fans and the Under-Appreciation of Ryan Howard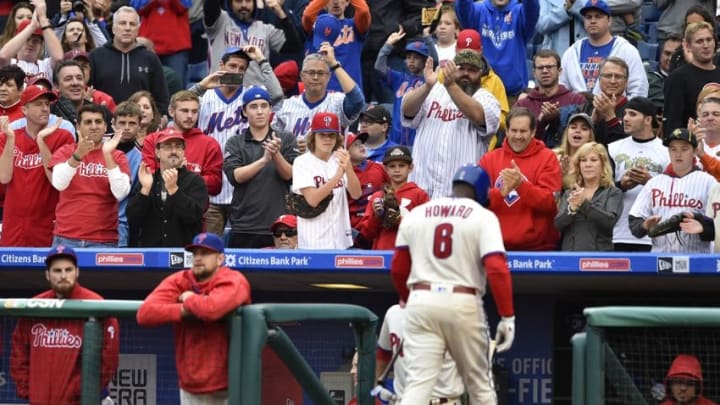 Oct 1, 2016; Philadelphia, PA, USA; Fans give Philadelphia Phillies first baseman Ryan Howard (6) a standing ovation after striking out during the ninth inning against the New York Mets at Citizens Bank Park. The Mets won 5-3. Mandatory Credit: Derik Hamilton-USA TODAY Sports /
May 5, 2015; Atlanta, GA, USA; Philadelphia Phillies first baseman Ryan Howard (6) strikes out against the Atlanta Braves in the ninth inning at Turner Field. The Braves defeated the Phillies 9-0. Mandatory Credit: Brett Davis-USA TODAY Sports /
Declining Numbers
I realize I will not be able to defend what he has done in recent seasons. Although when healthy, the power numbers are still there, he has not produced at a significant enough level to warrant playing every day. Most times I hear from his haters that Howard strikes out too much or (even worse) that he won't bunt to beat the shift.
People, let me clue you in here. Howard has struck out a ton his entire career.  In his 2006 MVP campaign, he whiffed a resounding 181 times in 159 games. In 2007 and 2008, he struck out in 199 of his plate appearances. Yes, they are excessive, but they came with some other impeccable numbers that haters choose to ignore.
For the Phillies run, Piece was putting up Ruthian type numbers. He reached over 130 RBI in '06, '07, '08, and '09.  In 2010 and 2011, he was able to eclipse 100 RBI both times. During his prime, Howard hit homeruns at an insane rate. He was the fasted player in MLB history to reach 100 homers (only 325 games). He belted over 30 homers each season of their run, including 58 to let us know the fun was coming in 2006.
While the numbers have not gotten better, Howard has always had prolific power. So while haters are always going to point to his decline, they can quickly be redirected with some simple stat checking.  Every player regresses. We saw it happen to all of our favorite Phillies, but for some reason, Howard continues to take the most heat.