Predicting how 2020 Phillies hitters will do in free agency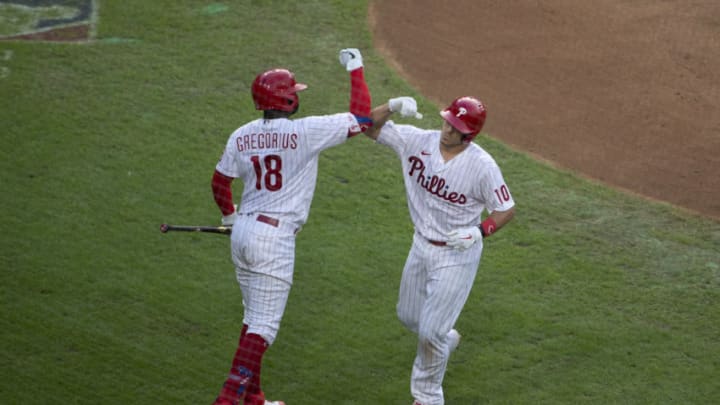 J.T. Realmuto #10 and Didi Gregorius #18 (Photo by Mitchell Leff/Getty Images) /
Several 2020 Phillies position players are now free agents; here's what we predict they will earn this offseason.
Only four position players from the 2020 Philadelphia Phillies roster have become free agents this offseason, but that includes two of their star players: Didi Gregorius and J.T. Realmuto.
While it's impossible to know how much money MLB teams will spend this offseason, here's my guess of what each of those position players will earn.
Didi Gregorius
When Didi Gregorius signed with the Phillies for $14 million last offseason, he intended to re-establish his value after a season lost to injury. A healthy Gregorius playing the way he did from 2015-2018 would have been able to command much more than $14 million for one year.
Gregorius played well enough in 2020 to prove that he's just as good as he was before his Tommy John surgery. However, the Phillies did not offer him an $18.9 million qualifying offer. This suggests that the market for Gregorius will not be as lucrative as he was hoping it would be when he signed that "prove-it" deal last offseason.
That being said, Gregorius will still surely be looking for a multi-year deal now. Next year, shortstops Francisco Lindor, Corey Seager, Trevor Story, Javier Baez, and Carlos Correa could all be free agents, and I'm sure Gregorius doesn't want to be competing for a contract with that group.
Considering his age and talent level, I think Gregorius is looking at a three-year deal. That would likely cover his final years as a productive defensive shortstop. While I think Gregorius could have earned a four-year $80 million deal last offseason had he been healthy, this year he'll be looking at significantly less.
My prediction: 3 years, $45 million