Predicting how 2020 Phillies hitters will do in free agency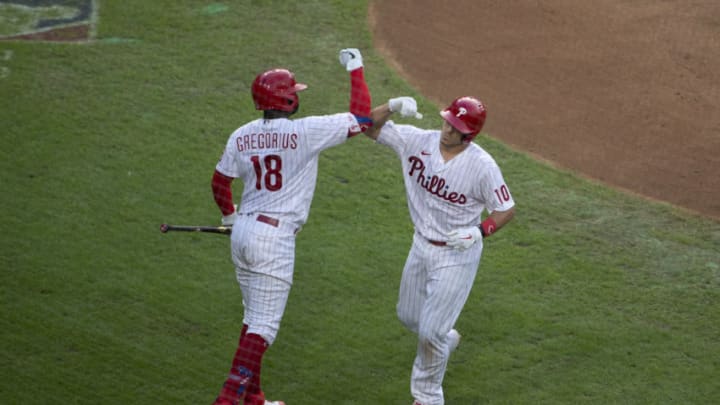 J.T. Realmuto #10 and Didi Gregorius #18 (Photo by Mitchell Leff/Getty Images) /
J.T. Realmuto #10 of the Philadelphia Phillies (Photo by Michael Reaves/Getty Images) /
J.T. Realmuto
Catcher J.T. Realmuto reportedly wants a new contract that would set a benchmark for free agent catchers. While it's almost certain that he will top Buster Posey's record for average annual value ($19.875 million), it's looking very unlikely that he will earn more guaranteed money than Joe Mauer did ($184 million) with his record-setting contract back in 2010.
Most experts seem to agree that Realmuto will earn somewhere between $120 million and $140 million on a five-year deal. However, I believe that there will be quite a bidding war for Realmuto's services between the Phillies, New York Yankees, New York Mets, and possibly even more teams. This will undoubtedly drive up his price.
My prediction: Six years, $150 million
Jay Bruce
SluggerJay Bruce is well past his days as a starter in an MLB lineup. However, he still has a lot of pop in his bat and can hit respectably against right-handed pitchers. He deserves a role on a major league bench.
Unfortunately, players like Bruce are in for some hard luck this offseason. With most teams looking to cut costs, veteran bench players are going to get ignored in favor of young guys making the league minimum.
Luckily for Bruce, he has a good enough reputation around the league and strong enough numbers against right-handers (.821 OPS in 2020) that he should be able to secure a contract.
My prediction: 1 year, $900,000
Phil Gosselin
While area native Phil Gosselin started off the season hot and had many fans clamoring to give him more playing time, he ultimately finished the season with a paltry -0.1 fWAR. Simply put, Gosselin should not get regular playing time on a major league team.
However, as a replacement-level kind of guy, he could slot in as a competent bench bat for almost any team. He's likely to have his pick of minor league contract offers.
Prediction: Minor league deal