Phillies reveal interactive, socially distanced 2020 plans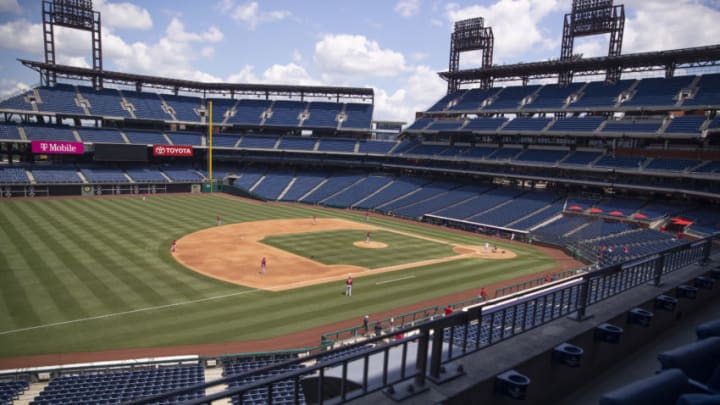 A general view of Citizens Bank Park (Photo by Mitchell Leff/Getty Images) /
Phillies reveal interactive, socially distanced plans for 2020 season
The Philadelphia Phillies are doing their best to make the most out of the unprecedented 60-game season, scheduled to get underway in less than two weeks.
On Monday, the Philadelphia Inquirer's Matt Breen confirmed several ways the Phillies will handle their 30 home games.
RELATED | Phillies game producers eyeing creative ways to engage fans
There will be crowd noise pumped in, cardboard cutouts, Even the Phillies' beloved public address announcer Dan Baker and Phillie Phanatic mascot will be in attendance at Citizens Bank Park.
Phillies EVP David Buck told Breen: "We're trying to make it as normal as possible."
Pumped-in Crowd Noise
The Phillies will pump in crowd noise through their PA system, which will audible on NBC Sports Philadelphia television broadcasts. According to Breen, the noise will come from Sony's popular MLB The Show video game franchise.
We could get our first listen of the pumped-in crowd noise as early as this Sunday when the NBC Sports Philadelphia will likely broadcast the team's lone home exhibition contest against the Baltimore Orioles at 6:05 p.m.
Buck told Breen that having a silent stadium otherwise would be a "competitive issue."
"You don't want it so quiet in there. Say a catcher is moving inside or outside, you don't want the batter to be able to hear that," he said. "You don't want the batter to hear the shortstop yell to the second baseman, 'Move over to your left.'"
"You do need some ambient noise in there. You don't want to blare it out and be ridiculous, but you do need to be fair."