Phillies reveal interactive, socially distanced 2020 plans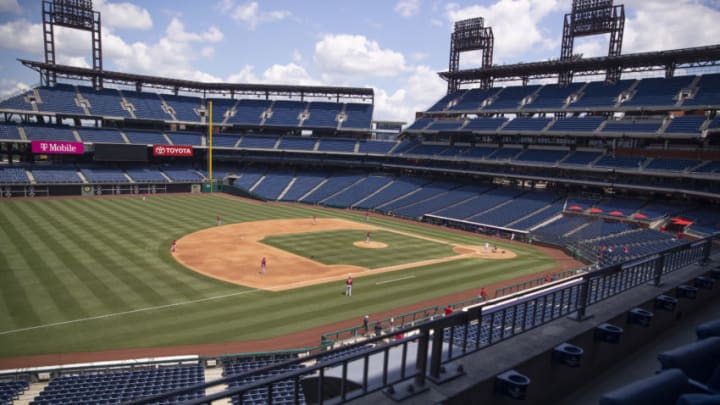 A general view of Citizens Bank Park (Photo by Mitchell Leff/Getty Images) /
Dan Baker
Stadium public address announcer Dan Baker (Photo by Hunter Martin/Getty Images) /
Longtime Phillies public address announcer Dan Baker will, in fact, be working in his 49th season with the team, according to Breen.
As usual, Baker will announce each batter. Walk-up music will be played for each Phillies batter, too.
Similar to the pumped in crowd noise, Baker and the walk-up music are likely also to be heard on television broadcasts.
Cardboard cutouts … for now
As previously rumored, the Phillies will soon invite fans to upload their picture, which would then be turned into a cardboard cutout and placed in one of the seats at Citizens Bank Park.
Several other teams are doing the same and are finding their own ways to be creative in the process. For example, the Oakland A's will send fans a baseball souvenir if a foul ball hits their cardboard cutout at RingCentral Coliseum.
The Phillies reportedly have something their sleeve as well, as Buck told Breen they have "something cool planned for the first three games."
Collected proceeds are benefiting COVID-19 relief funds. However, Buck told Breen that the Phillies hope the cutouts will not be a permanent fixture, as they are hopeful fans can return later in the season.
Buck told Breen:
""It's really hard. MLB wants us to put on a show but they don't want us to go crazy. There's not any money coming in so you can't have 20 people in there running a great show for no fans. Here's the other thing, we start next Friday, August 1 it could be much different and then August 15. We're just going to build on it. At some point, we'd like to have fans and then you're a lot closer to normal than you're starting with.""
Phanavision
A part of what makes Citizens Bank Park great is its state-of-the-art, 76-foot-high, 97-foot-wide Phanavision. The Phillies are working hard to bring it to the homes of fans this season.
According to Breen, the team is planning to allow fans at home to see the scoreboard as a "second screen" through the team's app and/or website.
Breen also speculated the Phillies could mirror Major League Soccer using scoreboards to display fan reactions. How cool would it be, in between innings, if fans could "go live" from their home?
Due to MLB's 2020 operations manual, the Phillies were forced to cut down on their Phanavision staff from its usual 18 or 19 people to just six or seven.