Phillies 'exploring' fan cardboard cutouts to fill seats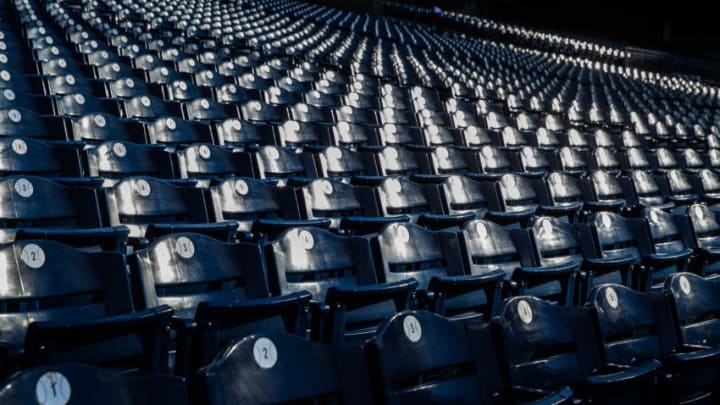 A general view of empty seats. (Photo by Rob Tringali/SportsChrome/Getty Images) /
The Phillies stadium may still be filled with a sea of red this season after all
Opening Day for the Philadelphia Phillies is less than one more away, and, unlike in years past, Citizens Bank Park will not be filled in a sea fans wearing red attire. However, the color could still ubiquitous throughout the venue, but rather as cardboard cutouts.
Although the Phillie Phanatic is permitted, fans cannot attend games in-person. So, the Phillies organization is reportedly looking into ways to keep them somehow linked to the ballpark, which each season of the previous decade had an average attendance of more than 23,000, according to Statista.
The Phillies, according to a Friday morning report from WPVI, are "exploring" an app that will allow fans to upload their pictures, which in turn would be made into cardboard cutouts to fill the seats.
Any fees, WPVI continues, would be donated to charity.
RELATED | Phillies: Construction changes view of skyline from ballpark
The Phillies would not be the first Major League Baseball organization to explore the cardboard cutouts of fans in the stands to try to minimize the view of empty seats. Gabe Kapler's San Francisco Giants are among the first to do so, allowing season ticket holders to submit their image as part of a "Fan Cutout Program," according to NBC Sports Bay Area.
Would you submit your image as part of this potential cardboard cutout program at Citizens Bank Park? While fans cannot be in attendance in-person, I guess it would be cool to say your likeness was still watching Bryce Harper crush home runs, as well as Aaron Nola whiffing opposing batters.
RELATED | Phillies: Joe Girardi discusses need to adjust amid pandemic
Ahead of next week's start to "spring training 2," Phillies players will begin arriving in South Philadelphia on Friday to be tested for COVID-19. They will then quarantine, before taking an online educational course regarding Major League Baseball's safety protocols for the upcoming season.
Pitchers and catchers are slated to report Wednesday, July 1, followed by the full-squad on Friday, July 3.