Phillies Summer Camp 2020: 10 Things You Need to Know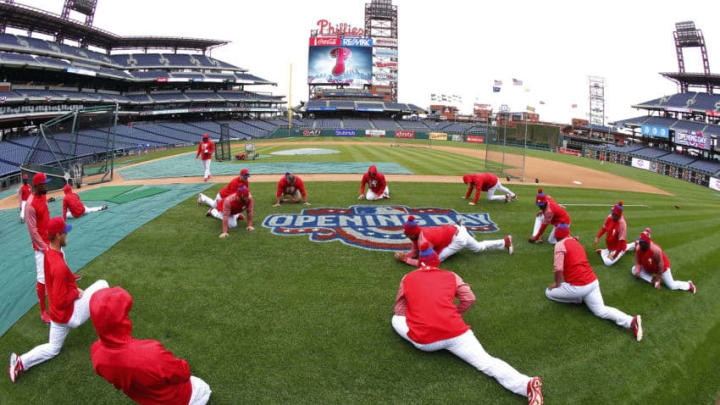 Philadelphia Phillies stretch (Photo by Rich Schultz/Getty Images) /
Zack Wheeler, Philadelphia Phillies (Photo by Julio Aguilar/Getty Images) /
7. No Phillies player has opted out, but team will briefly miss a starter
Several notable players around Major League Baseball have opted to not play this season due to the risk associated with COVID-19.
Among those players including reigning World Series champions Ryan Zimmerman and Joe Ross of the Washington Nationals, Ian Desmond of the Colorado Rockies, as well as Mike Leake of the Arizona Diamondbacks.
No Phillies player has opted out, however starting pitcher Zack Wheeler is planning to enable three days of paternity leave later this month for the birth of his first child, writes NBC Sports Philadelphia's Jim Salisbury. In order to return, Wheeler will need to go through COVID-testing protocols.
"It's subject to change but right now we're not anticipating an extended absence," Klentak said in a conference call with reporters on Monday.
8. Will Alec Bohm and Spencer Howard make the team?
Phillies top hitting prospect Alec Bohm, as well as top pitching prospect Spencer Howard, are both members of the team's initial player will and will report to South Philadelphia this week for summer camp.
Klentak recently told reporters that Bohm and Howard both being part of the pool shows the organization views them as candidates to compete in the 60-game season. Klentak also said he thinks the Phillies have a "good team" and that they will do everything they can "to put the best team out there and win."
Still, Salisbury is skeptical the Phillies would add Bohm and/or Howard to their Opening Day roster, even if they have a strong summer camp showing: "It won't be surprising if the team tries to maximize future control of both players by delaying adding them to the active roster for a week or so."
With the universal designated hitter being a factor, there are extra at-bats for players, like Bohm, to make an impact in 2020.