Phillies Summer Camp 2020: 10 Things You Need to Know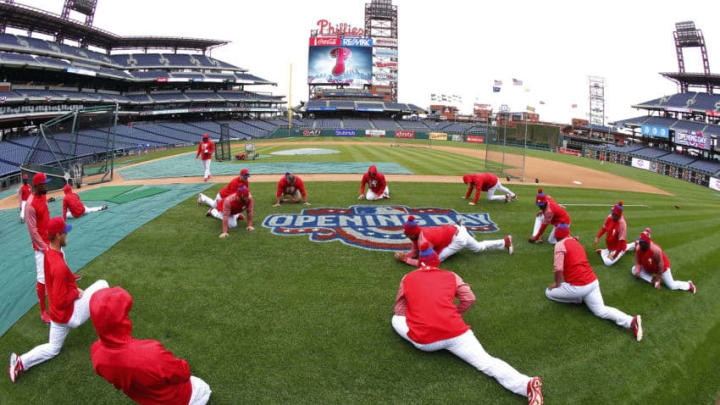 Philadelphia Phillies stretch (Photo by Rich Schultz/Getty Images) /
J.T. Realmuto #10 of the Philadelphia Phillies (Photo by Rich Schultz/Getty Images) /
9. J.T. Realmuto
Last week, it had been reported that the Phillies are willing to give All-Star catcher J.T. Realmuto a record contract in terms of average annual value for catchers.
In conversation with reporters on Monday, Klentak set expectations in that the team is not close to an agreement with Realmuto. Klentak reminded of the transaction freeze that took place over the past three and a half months, and that the team has recently prioritized intake COVID-19 screenings, so he still yet to touch base with the catcher and his agent.
And, due to the uncertainty, talks may not progress much further to a finish line in the near future, either:
"We still love the player. We'd still would love to have him in red pinstripes for the long haul, but there's a lot of uncertainty in the game right now on a variety of levels, so we just need to factor that all in," Klentak said. "I wish I had a more concrete timeframe to give you, but I think we just need to play that out because I don't know the answer."
Klentak continued: "The landscape we left in March is different from the landscape now. We have to see how that manifests itself. We still love the player and want to have him for the longhaul. There's a lot of uncertainty right now. We need to factor that in."
If the Phillies give Realmuto a record deal, it would mean they would have more than $100 million committed to five players next season: Bryce Harper, Andrew McCutchen, J.T. Realmuto, Jean Segura, and Zack Wheeler.
10. Keeping Players Healthy
Phillies manager Joe Girardi has already been quoted as saying keeping players healthy will be one of his main focuses in summer camp. One way he will do that during the season is utilize the designated hitter role to spare players time off in the field, including McCutchen, Bryce Harper, and J.T. Realmuto, among others.
Perhaps the player he will be most cautious about is outfielder Andrew McCutchen, who was limited to just 59 games early last season due to tearing his ACL. Klentak said McCutchen is now 100 percent, "as far as he knows."