Phillies Summer Camp 2020: 10 Things You Need to Know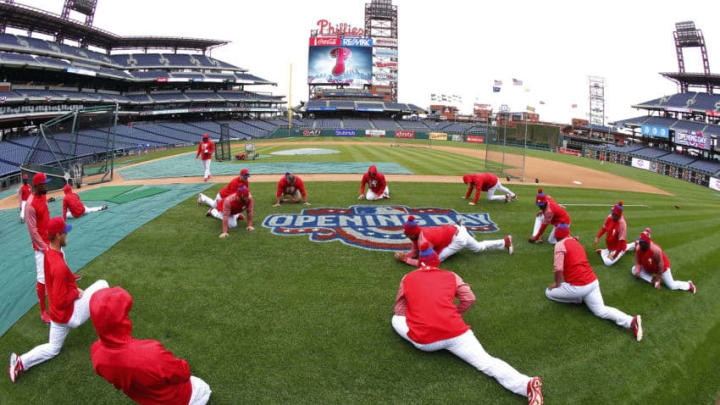 Philadelphia Phillies stretch (Photo by Rich Schultz/Getty Images) /
A general view of baseballs (Photo by Mitchell Leff/Getty Images) /
3. The Minor League season is officially canceled
Tuesday evening, Minor League Baseball officially announced the cancelation of their 2020 season. The Phillies will continue to pay their minor-league players $400 a week through the scheduled end of the MiLB season, September 7.
4. Opening Day roster
While the 60-game 2020 Phillies schedule has yet to be released, Opening Day is slated for either July 23 or 24. As many as 30 of the Phillies' 50-plus players in their player pool can make the team, as long as they are added to the 40-man roster if not done so already.
After two weeks into the season, the rosters will shrink to 28, before shrinking to 26 two weeks later.
5. Alternate training site
Any player within the Phillies' player pool who does not earn his way onto the 30-man Opening Day roster will report to the team's alternate training site — Coca-Cola Park, home of the Triple-A Lehigh Valley IronPigs.
These players will stay ready in case the need arises; up to three of these players can be brought with the team on road trips as its "taxi squad." At least one taxi squad member is required to be a catcher.
6. Player Pool
The Phillies recently named 53 players to their initial player pool for summer camp. Major League teams could have named up to 60, but the Phillies leaving seven spots open allows them flexibility to make additions without risky subtractions. The Phillies can remove a player from their 60-man pool if they want, however they risk losing them.
Recently, the team added its 54th player to the pool: right-handed reliever Anthony Swarzak. Before doing so, they released and re-signed him — in other words, rewrote some language in his contract.
The 34-year-old signed a minor league contract with an invitation to spring training with the Phillies in early February. In five games and as many innings down in Clearwater earlier this year, the 10-year veteran posted a 7.20 ERA and 1.200 WHIP while striking out eight and walking just one.
Klentak said more catchers will be added to the Phillies' pool this week, in addition to Deivy Grullón, Andrew Knapp and J.T. Realmuto.
Outfielder Odubel Herrera was not included on the team's initial player pool, but adding him, later on, is still a consideration, according to Klentak: "I think as we get towards the end of spring training, there'll probably be a second wave of players that join and that could include somebody like Odubel."