Phillies: No place like home, just look at the splits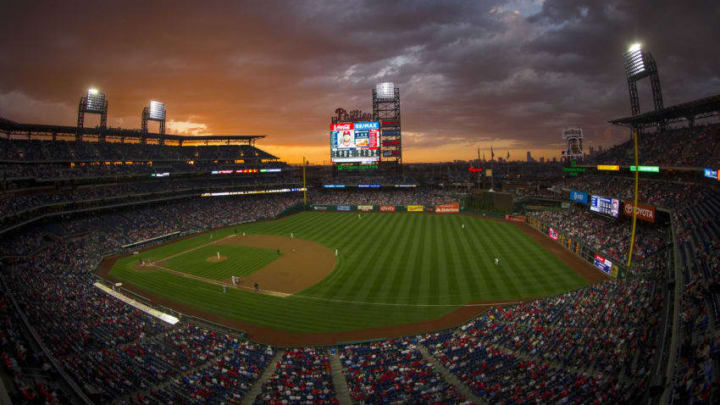 A general view of Citizens Bank Park (Photo by Mitchell Leff/Getty Images) /
The Phillies have shown up at home, but on the road… that's a different story.
The Phillies just got back from a very disappointing trip (particularly for the offense) through Colorado and New York. They went 2-5, averaged just three runs per game, and got held to one run or less three times.
Last year, the Phillies were a vastly different team at home than on the road, going 49-32 at home with 370 runs scored and 104 home runs at home, and 31-50 with 307 runs with 82 homers on the road.
That trend has continued this year as well, as the team is now 8-5 at home and 5-7 on the road.
At the time of this writing (the eternal rain delay before the game on 4/26), the Phillies have a nearly even split of plate appearance between home (500) and road (508), but their other offensive numbers have been drastically better at home than on the road.
PHILADELPHIA, PA – APRIL 16: Bryce Harper #3 of the Philadelphia Phillies waits to bat in the on deck circle against the New York Mets during a game at Citizens Bank Park on April 16, 2019 in Philadelphia, Pennsylvania. (Photo by Rich Schultz/Getty Images) /
Their average is actually significantly higher on the road than at home (.256 vs .233) but they're slugging .445 and have an OBP of .340 at home while slugging .396 with a .326 OBP on the road. They've also scored 20 more runs at home than on the road, although they have had one more home game.
The most telling number for me, offensively, is home runs. The Phillies have cranked 22 at Citizens Bank Park, but have managed only 10 elsewhere. Granted, Citizen's Bank Park is very homer-friendly, and the Phillies have played six combined games between notably not-homer-friendly Citi Field and Marlins Park, but they also played four at alternate NASA launch site Coors Field and weren't able to take advantage.
Another telling stat is the Phils K/BB ratio, which is 112/65 at home and 121/45 away. These numbers really reveal the Phillies formula for success: Be patient at the plate, and hit mistakes out of the park.
Philadelphia Phillies /
Philadelphia Phillies
In their 13 wins, the Phillies have hit 25 homers and scored 90 runs with a .278 average; in their 12 losses, they've hit seven dingers, averaged .208 and scored 34. They've been boom or bust so far, but they'll have to learn to play small-ball if they want to win in October.
The Phillies pitching splits, on the other hand, are a little worse at home, but are close enough be explained away by that one extra home game. They've allowed 65 runs on 125 hits and 20 home runs in South Philly as opposed to 56 runs on 115 hits and 17 homers elsewhere. Their batting average against is dead even (.270) and their OBP is one point higher at home (.339 vs .338). The one significant difference is strikeouts. They've got 124 on the road, and 98 at home.
So why do the Phillies do so much better in Philadelphia than away from it? Well, there's no clear-cut answer. Yes, Citizens Bank Park plays small, but it's not twice as easy to hit homers there. My best guess, is they just feed off the energy of the fans. That, and they seem to feed off comfort and continuity as well, which is easier at home.
They had the same lineup for most of the first two weeks, and it was effective. They had to shuffle the lineup around this last road trip with Jean Segura, Odubel Herrera and Scott Kingery missing time though, and… well, I just showed you some numbers from their last trip. Hopefully, these road splits will start to get better once the team gets closer to full strength (Jean Segura is set to return tomorrow).
If the Phillies are able to make the playoffs, I get the feeling home-field advantage will be the deciding factor. If they have three games at Citizen's Bank Park in the NLDS, the place will be rocking, and the Phils should be able to feed off that energy. If they have to play three road games (or God-forbid a road game in the Wild Card) they might be in trouble.