Phillies: 2019 season predictions and fun pop bets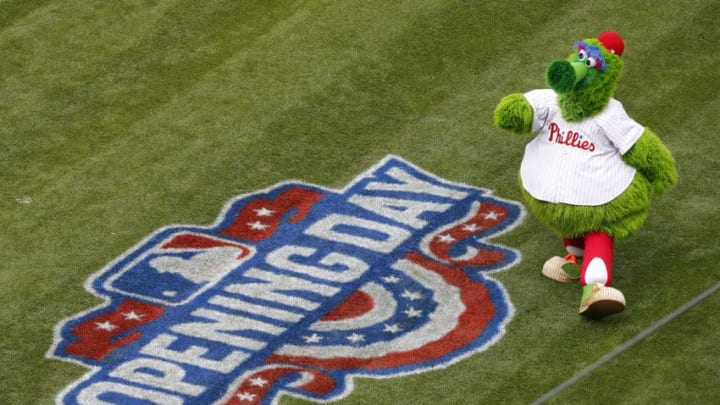 PHILADELPHIA, PA - APRIL 07: The Phillie Phanatic performs before an opening day game between the Philadelphia Phillies the Washington Nationals at Citizens Bank Park on April 7, 2017 in Philadelphia, Pennsylvania. (Photo by Rich Schultz/Getty Images) /
PHILADELPHIA, PA – APRIL 07: The Phillie Phanatic performs before an opening day game between the Philadelphia Phillies the Washington Nationals at Citizens Bank Park on April 7, 2017 in Philadelphia, Pennsylvania. (Photo by Rich Schultz/Getty Images) /
The Phillies stand to make a playoff run in 2019, but can they live up to lofty expectations?
After what feels like one of the longest offseasons in Phillies history, we have finally arrived at Opening Day!
After trading their former number one prospect, acquiring the best catcher in baseball, and signing arguably the best player in baseball the Phillies are expected to push for a playoff spot in 2019.
Site experts George Stockburger and John Town have come up with their own fun projections and prop bets (for entertainment purposes) going into the season.
We start with one of the young, electric arms in the Phillies bullpen and whether or not he can pump out some saves this year.
George (Under): The Phillies don't have a designated closer going into 2019, so I find it hard to believe anyone will compile a significant number of saves this season. Between Seranthony Dominguez, Pat Neshek, David Robertson, and Hector Neris there will be plenty of save opportunities to go around.
Additionally, the Phillies might not find themselves in a lot of save situations thanks to their fantastic offense. Projected to be among the best in baseball, this lineup could put up five or six runs a game without trouble.
Neris had 26 saves in 2017 and Jeanmar Gomez (!) had 37 in 2016 (!!!) so it is possible the Phillies could have one guy stand out in the back of the bullpen, but with so many options I don't see one guy getting a bulk of the saves.
John (Over): While the Phillies have not designated a closer for this year, they still know which players they will lean on late in tight games. The two key players expected to fill this role are Seranthony Dominguez and David Robertson, but Hector Neris and Adam Morgan will also get a chance to fill this role.
Despite the numerous players filling late-inning spots, I still feel like Dominguez will wind up getting more than 25 saves. This team has the potential to win 90-plus games, which leaves plenty of save opportunities.
So long as Dominguez remains effective throughout the season, he should get plenty of those save opportunities. What may help Dominguez rack up saves this year is his ability to pitch more than one inning. Seven of his 16 saves last year required going into a second inning. He can come into the game to finish off the eighth then round out the game in the ninth for the save.
It may not be by a lot, but I think Dominguez gets used enough this season to clear the 25-save mark.