Phillies drawing mixed response from "Sensitive Bus"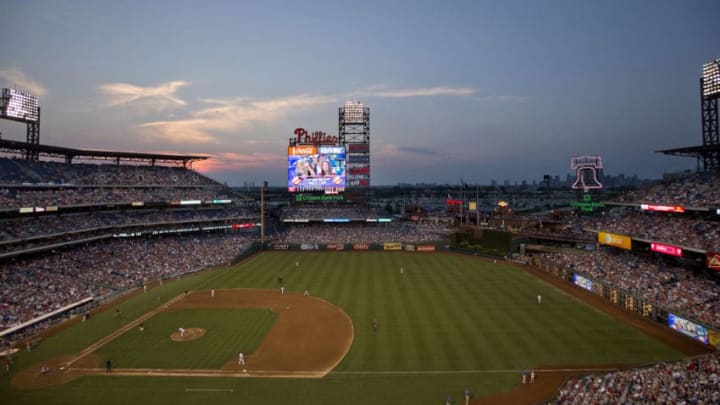 PHILADELPHIA, PA - JULY 12: A general view of Citizens Bank Park during the game between the Washington Nationals and Philadelphia Phillies on July 12, 2014 in Philadelphia, Pennsylvania. (Photo by Mitchell Leff/Getty Images) /
The Phillies pitching staff has a "sensitive bus" going around the clubhouse meant to thicken skin, but the response to the bus has been mixed.
Jim Salisbury of NBC Sports Philadelphia published a story Wednesday titled "Phillies pitchers look to stay off the Sensitive Bus." It explains why the team has a yellow toy school bus hanging in the clubhouse over Aaron Nola's locker and why pitchers want to avoid it.
Pitching coach Rick Kranitz explained that the bus is meant to keep players from letting things get under their skin easily in a joking manner. He started placing the bus in player's lockers last year while he was an assistant, and it has continued this spring.
Kranitz told Salisbury that none of the pitchers want to be in possession of the bus:
More from Phillies News
""You know, sometimes guys get a little sensitive about things," Kranitz said. "They start jabbing each other a little, getting under each others' skin. It doesn't even have to be about baseball. You have to have tough skin. The boys, they don't ever want the bus in their locker…"If somebody gets on somebody's nerves and there's some sensitivity, I'll just go get it and put it in their locker," Kranitz said with a laugh. "Hey, I might put it in my own locker.""
When Salisbury's story was published, some expressed their discontent over the connotation of the bus and being too "sensitive".
However, others agreed with the message of the bus:
More from That Balls Outta Here
There is merit to both sides of the argument. While it is important for players to take criticism and be able to learn from it, there is a hazing aspect to the bus. Sports are dominated by the concept of masculinity and "being a man", which has led to bullying and over-the-top hazing incidents.
Ultimately, the effects of the "sensitive bus" come down to how player's interpret it. Kranitz does explain that it is all done for joke, like a kangaroo court. As Corey Seidman, Salisbury's counterpart at NBC Sports Philadelphia, points out, putting sensitive in the name of the bus may be a source of outrage rather than the message.
Next: Phillies wise being cautious on going all-in on Arrieta
If the bus does help players take criticism in stride without getting upset, then there isn't much to worry about. On the other hand, if it does start to have negative effects in the clubhouse, then Kranitz should abandon the bus.