Phillies: Japanese Superstar SP/OF Shohei Otani an Option?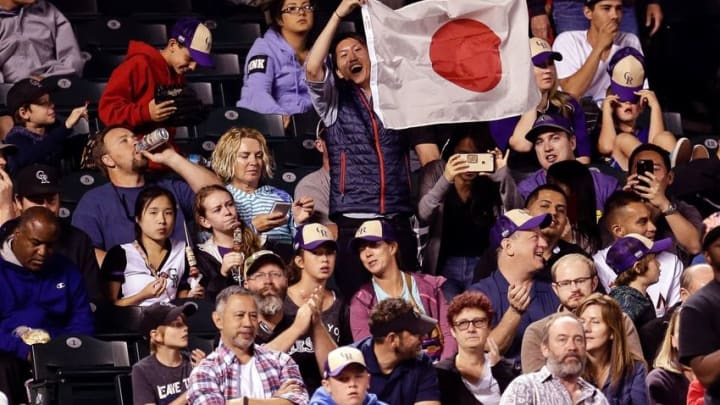 Aug 5, 2016; Denver, CO, USA; A fan displays the flag of Japan in the seventh inning of the game between the Colorado Rockies and the Miami Marlins at Coors Field. Mandatory Credit: Isaiah J. Downing-USA TODAY Sports /
Could the Phillies be involved in the next great Japanese star?
What if I told you there was a 22-year-old starting pitcher in Japan who started 20 games and finished with a 1.86 ERA over 140 innings with a fastball that touches 103 MPH? What if I also told you he hit 22 home runs in 104 games as an outfielder.
That's right. A young ace starting pitcher who can hit for immense power, something we have not heard of since Babe Ruth.
Shohei Otani is said to be the next Japanese superstar to come to Major League Baseball. Looking to join the ranks of Ichiro, Yu Darvish, Masahiro Tanaka, and Hideki Matsui, Otani looks and sounds like the real deal.
Now the real question: what would it cost to acquire Otani, and could the Phillies be in play?
If Otani's team in Japan decides to make him available, also known as "posting", MLB teams would have the opportunity to bid on exclusive negotiating rights with Otani. After teams spent over $50 million to bid on Yu Darvish and Masahiro Tanaka, a cap of $20 million was placed on posting bids.
Under the new rules set at the end of the 2013 season, multiple teams can negotiate with the player and their club if the maximum fee is posted. Anything less than that, the highest-bidder has the sole negotiating rights.
With no major player salaries on the books for the foreseeable future, the Phillies could pay the $20 million fee with installments to the club.
The next question is, how large would the contract with Otani be? Some believe he could net the first-ever $300 million contract in baseball history.
The Yankees gave Tanaka a seven-year, $155,000,000 contract with $155,000,000 guaranteed. They did add an opt-out clause after the 2017 season, and implemented a full no-trade clause. Texas was very creative with Darvish's contract, implementing multiple incentives for various awards he could earn. They also had an opt-out clause implemented in the deal, as did the Diamondbacks with Cuban slugger Yasmany Tomas.
More from That Balls Outta Here
The Phillies have the money to pay Otani, and having an opt-out clause that goes into effect after the 2018 season or later would almost be required. Many believe the Phillies are eyeing the star-studded 2018 free agent class, which is set to include Carlos Gonzalez, J.D. Martinez, and Mike Moustakas, or even the 2019 class with Bryce Harper, Manny Machado, and Matt Harvey.
The money is there for the Phillies to make a run at Otani, and potentially make him the ace of their starting rotation with Vincent Velasquez and Aaron Nola making a solid 1-3 punch. Otani having the ability to hit for power as well makes for an intriguing situation where the Phillies could bat him in the four-hole, or even start him in the outfield.
This is certainly an unprecedented situation where you have a player who can literally do it all.
Matt Klentak will take calculated risks if they are available. It would not hurt to submit the maximum bid to Otani's Japanese team should he be posted this offseason. At worst you meet the kid and get an up-close look at him and have a scouting report.
Best case scenario you have the next Ichiro/Tanaka/Matsui who takes baseball by storm. People will go to Phillies games to watch this kid, and the excitement around him will be unprecedented.
Next: Phillies Trade Darin Ruf for Howie Kendrick
Personally I'd go all-in and make a calculated risk in a potential contract where you can opt-out as the team after a certain amount of time. This is a new regime in Philadelphia, and now is the time to show you mean business.