Prospect Andrew Baker could help Phillies bullpen in 2023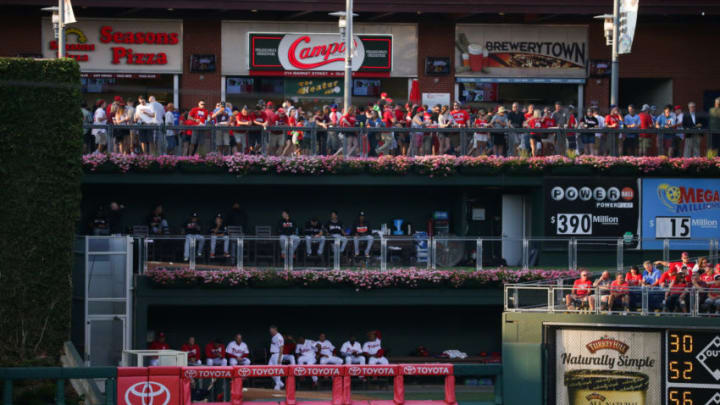 A view of the bullpens and fans at Citizens Bank Park (Photo by Hunter Martin/Getty Images) /
The Phillies could have internal bullpen help from prospect Andrew Baker.
There have been rumors and discussions indicating that the Philadelphia Phillies may still add bullpen help before the start of the 2023 season. The club added left-handed reliever Matt Strahm during December's Winter Meetings, but a team can never have enough bullpen depth.
While the Phillies' front office will most likely add bullpen help from the outside, they could also look to their minor-league system for some internal options. Among those is right-handed reliever Andrew Baker — who was drafted by the Phillies in 2021 and finished last season at Double-A Reading.
Baker's biggest asset is his fastball, which he complements with a pretty powerful breaking ball. The 22-year-old's heater sat at 98 miles per hour and topped out at 102 miles per hour last season. At that velocity, he would be an ideal candidate to help out in many Major League bullpens. The one issue holding Baker back, however, is his command. It is something that he has struggled with, but if he can figure that part of his game out, he could be a major contributor.
In 54 1/3 innings in 2022 between High-A Jersey Shore and Double-A Reading, Baker posted a 3.98 ERA and a 1.34 WHIP. In those innings, the right-hander struck out 72 batters, but walked 29. Baker's K/9 ratio of 11.9 shows his potential if he can figure out his control.
While Baker may be unpolished at this point, he could end up being a cheap, reliable piece in the Phillies bullpen — as long as he can improve his fastball command. Bringing in outside help is always an option, but keeping payroll down with an in-house option would benefit the Phillies in the long run.