Phillies Pheatured Player: Aaron Nola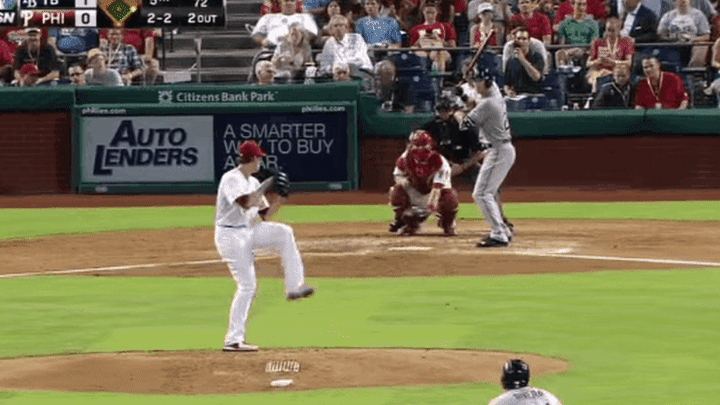 The Philadelphia Phillies open a 10-game homestand with a series against the divison rival Washington Nationals, and starting pitching could hold the key to victory.
Aaron Nola has been up-and-down through the month of May. In his last two starts, the young righty (he turns 23 years old next week) has struggled some, allowing four runs against the Tigers and five against the lowly Braves.
On the other hand, Nola also had strong performances this month. Against the Cardinals on May 3rd, he allowed just two hits in seven shutout innings while striking out seven. In addition, he allowed just five hits and two runs (one earned) in seven innings on May 14th against the Reds.
More from That Balls Outta Here
Despite his varying performances, Nola has still been impressive, striking out 24.6% of opposing hitters and walking just 4.5% in the month of May. The former is considered "great" by Fangraphs and the latter "excellent". Nola's FIP of 2.51 in May is eighth in all of Major League Baseball.
Nola has found success in part due to an increased ground ball ratio. In 2015, Nola induced 47.6% ground balls, which is slightly above the league average. However, he has ramped that up significantly this season, turning 56.3% of his batted balls into grounders.
The Fangraphs glossary page for SIERA (Skill-Interactive ERA), gives a great description of how ground-ball pitchers can succeed:
"The higher a pitcher's ground ball rate, the easier it is for their defense to turn those ground balls into outs. In other words, a pitcher with a 55% ground ball rate will have a lower BABIP on grounders than a pitcher with a 45% ground ball rate. And if a pitcher walks a large number of batters and has a high ground ball rate, their double-play rate will be higher as well."
When batters have to try to hit these pitches;
Nola-climbs-the-ladder /
nola curve /
If they make any contact at all, it probably won't be solid.
With a strong lineup featuring one of baseball's most dangerous hitters in Bryce Harper, the Phillies starting pitching will be a huge key.
Tapering the Nationals' offensive barrage, and keeping games close for the less powerful Phillies attack is an imperative.
Nola has shown he can do that, allowing zero runs in seven innings back on April 28th. He has also fallen victim to Washington's bats, giving up seven runs back on April 16th in his worst start of the 2016 season.
If Nola induces strikeouts and ground balls while limiting his walks, as he has done for a majority of his starts this season, he could easily dominate the Nationals in his start Tuesday. That is what the Phillies need in order to pull this series out.