Phillies have high hopes for Andrew Knapp this season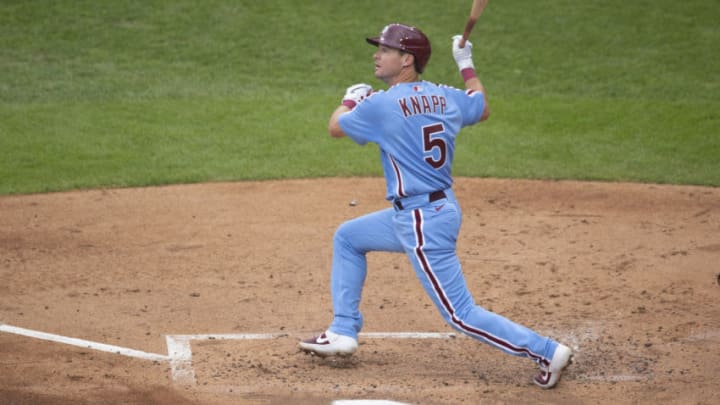 Andrew Knapp #5 of the Philadelphia Phillies (Photo by Mitchell Leff/Getty Images) /
Philadelphia Phillies backup catcher Andrew Knapp is coming off of a career-best season in Major League Baseball.
Through 33 games and 89 plate appearances, he slashed .278/.404/.444 with nine runs scored, 13 singles, four doubles, one triple, two home runs, 15 RBI, 15 walks, and just 19 strikeouts. Behind the plate, Knapp caught 183 innings and committed only two errors. He also fielded four perfect innings at first base. Despite the shortened season, Knapp tied his career high in RBI. He set personal-best marks in batting average, on-base percentage, slugging percentage, and OPS.
The Phillies hope backup catcher Andrew Knapp can carry over his 2020 success.
A lot of his success has to do with not only preparation and a commitment to improve, but also the designated hitter position — giving them ample opportunity to use starting catcher J.T. Realmuto in the spot and allowing Knapp to receive added time behind the plate. The designated hitter continuing in 2021 is still not yet finalized.
"It's such a tough job to in a sense be ready offensively, because you don't get consistent at-bats. One of the things that he did get last year is he got consistent at-bats," Phillies manager Joe Girardi said on a recent Pine Tar for Breakfast podcast. "He was very productive, so we want to make sure that we keep him productive because J.T. can't catch every day."
"You can wear a catcher down to where there is no production offensively, so we will continue to use Andrew, because I think he offers a lot for our club," Girardi added.
The strong relationship between J.T. Realmuto and Andrew Knapp.
The Phillies and the four-year veteran recently avoided arbitration by agreeing to a one-year, $1.1 million contract. The contract was signed at a time when Realmuto's return was uncertain. Fast-forward to now — just days until the first spring training workout for pitchers and catchers in Clearwater, Florida — the strong bond between the two will continue for a third season in red pinstripes.
"I think there are two kinds of preparations. There's the preparation to have success for yourself individually, and there's the preparation to win," Girardi said. "That's what J.T. does. J.T. prepares to win and so does Andrew."
The Phillies skipper noted how Knapp and Realmuto work "extremely well together." Last season, they would often be found with their "heads in their lockers" perusing notes, since players were not allowed in meeting rooms together due to socially distancing protocols.
"It's fun to watch them do it. I love it," Girardi added. "For me, it's a spot that I don't really worry and that's nice."