Phillies 'full speed ahead' to Feb. 17 spring training start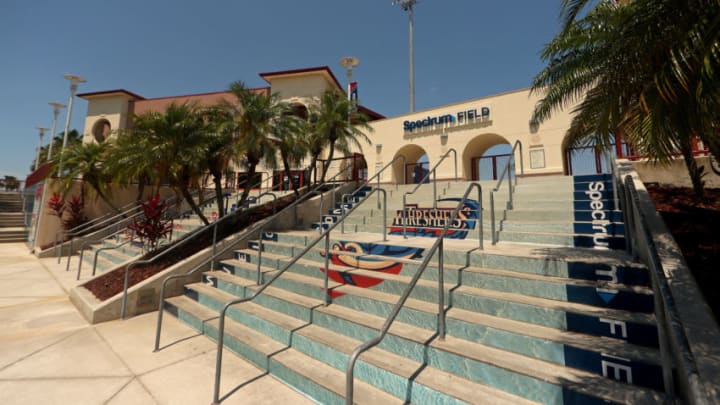 A view of Spectrum Field, spring training home of the Philadelphia Phillies (Photo by Mike Ehrmann/Getty Images) /
In exactly four weeks, the Philadelphia Phillies are preparing to hold their first workout for pitchers and catchers at their spring training complex in Clearwater, Florida — symbolizing the beginning of the second season under manager Joe Girardi, as well as the third with star outfielder Bryce Harper.
Whether catcher J.T. Realmuto will be there to also kick off his third season in red pinstripes remains to be seen, but all signs point toward that happening, especially with one of his last remaining suitors signing outfielder George Springer to a lucrative contract on Tuesday.
The Phillies are preparing as if spring training will get underway on February 17.
"Right now, we're full speed ahead plan for February 17," Phillies president of baseball operations Dave Dombrowski told reporters on Monday at the introductory press conference for new reliever Archie Bradley. "I guess you're always flexible, but we've been given no indication that won't be the case. … Like last year, I guess if things happen, you have to adjust from there. We're planning a normal season starts, so that's the approach that we're taking."
Nothing has been set in stone or confirmed from Major League Baseball of the 2021 season starting on time. As of now, the Phillies are set to play their first spring training game against the Toronto Blue Jays on February 27, and their first regular season game on Thursday, April 1, home against the Atlanta Braves.
If the last year taught them anything, things can change quickly given the COVID-19 pandemic. Phillies manager Joe Girardi believes, however, that one of the advantages the league and the team, in particular, has is that they have been through this.
"We've been through how you get through a season and the things that you need to do to keep players safe," Girardi told reporters. "I think most of the players that will come to big-league camp were probably in a big-league camp or on a big-league team last year and have an understanding of what it takes."
"Our preparation is full steam ahead as if we're going to start spring training on February 17."
Phillies players 'just want to play,' manager Joe Girardi says.
Girardi added that the Phillies will take every precaution necessary to keep players safe, and will rely on the experts and Major League Baseball to tell them what they need to do. "What we found is how much players really wanted to play last year and what they were willing to do to get a season in," he said. "I'm sure it's the same this year. They just want to play."
The 2009 World Series-winning skipper is even optimistic that fans will be able to attend games in the near future.
"As more vaccines roll out, I would think we would have more fans in the stands," he said Tuesday on MLB Network's High Heat. "I think we are still at the mercy of health officials in each state, and in our country. I definitely think it's possible and I think everyone is shooting for 162 games."
"We will have to see what happens."