Phillies: Mickey Moniak says Bryce Harper is a 'big brother'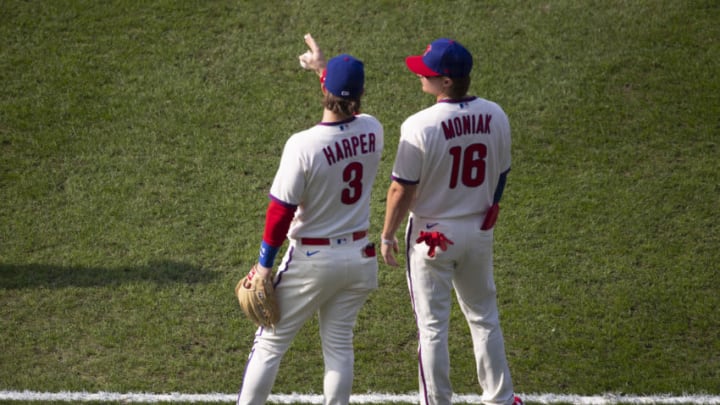 Bryce Harper #3 and Mickey Moniak #16 of the Philadelphia Phillies (Photo by Mitchell Leff/Getty Images) /
Mickey Moniak describes his relationship with fellow Phillies OF Bryce Harper.
One of the Philadelphia Phillies players who made their big-league debuts during the unprecedented 2020 season was former No. 1 overall draft pick, outfielder Mickey Moniak.
The Encinitas, California, native — recently mentioned in Andrew Benintendi trade rumors with the Boston Red Sox — joined MLB Network Wednesday morning, amid his participation in the Major League Baseball Rookie Career Development Program.
Moniak, 22, discussed several things during the television interview — among them, playing alongside six-time All-Star outfielder Bryce Harper. He said Harper has been awesome and like a "big brother" to him, ever since he signed the then-record contract prior to the 2019 season.
"I remember the day he got to Clearwater in spring training," Moniak recalled. "I was in the weight room getting stretched out, getting what I had to get done, and he approached me and said, 'Hey, man, what's going on? Anything you need, I'm here.'"
"It was like, 'Wow, this is Bryce Harper, the guy I was looking up to in high school and even younger than that, and he is coming up to me and extending himself as a person to kind of look up to.,'" Moniak continued. "He's been awesome. He is a great teammate and obviously a great player."
"I'm happy to have him as a right fielder next to me."
Being selected No. 1 overall was a 'blessing in disguise' for Mickey Moniak.
The Phillies have had their fair share of first-round draft picks over the past several years that may have not lived up to expectations. But, being selected first overall in the entire draft, as Moniak was in 2016, is an entirely different animal.
Moniak said that being the top draft pick, while a "dream come true," brings a lot of pressure with it. "I wouldn't change it for the world. But, those pressures definitely came out after my first full season," he said. "It definitely changed my mindset on how to approach the game and prepare."
Moniak shined in 2016 after being drafted, slashing .284/.340/.409 in 46 games. In 2017, however, he struggled with a .236/.284/.341 slash line across 123 games. Moniak rebounded in 2018 at the High-A level, slashing .270/.304/.383. Since, he hit .252 at Double-A Reading in 2019, and collected three hits across 14 at-bats in his MLB debut with the Phillies in 2020.
"I think it was a blessing in disguise — those struggles and all the pressures," Moniak added. "I think it toughened me up mentally and made me lock in on the task at hand, and just learn what I need to do day in and day out to get my body and mind right. I learned how to put those pressures aside and just go out and play baseball."