Phillies: Mickey Moniak says Bryce Harper is a 'big brother'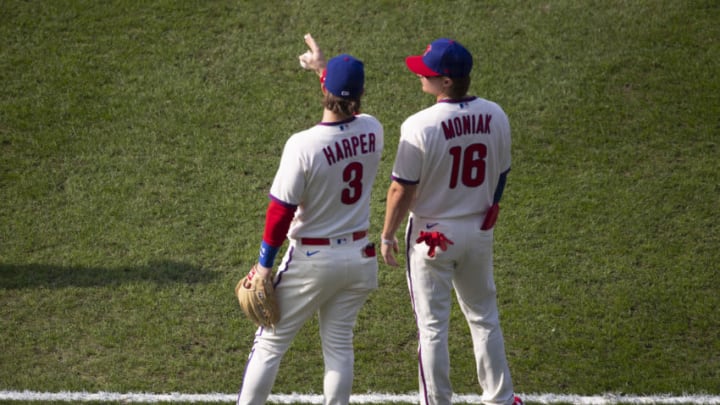 Bryce Harper #3 and Mickey Moniak #16 of the Philadelphia Phillies (Photo by Mitchell Leff/Getty Images) /
Mickey Moniak #16 of the Philadelphia Phillies (Photo by Mitchell Leff/Getty Images) /
Mickey Moniak looks back fondly on his rookie season.
While Moniak has seen plenty of ups and downs over the past few years in the organization, describing them as a "rollercoaster," he said he would never trade it for the world. Debuting in 2020 was incredible for him, something that he dreamed of for a "very long time."
"Obviously, [it was] under different circumstances with no fans," he said. "Not being able to have family there was definitely a little bit different than I pictured. It's all about adapting."
"I'm just happy I got there and am excited to get my foot in the door, and hopefully stay there for a while."
Praise for Phillies GM Sam Fuld.
Among the roles Sam Fuld has had in red pinstripes, prior to his promotion to general manager, was big-league outfield instructor, as well as Director of Integrative Baseball Performance.
Moniak said he is very happy for Fuld, who was instrumental over the years in giving players information and tools to be better on the field. "Sam knows baseball. He brings the player's side to the analytics, which I think is huge for me in order to integrate those things and understand them," he added. "Him being our GM is a great move."
"He's been nothing but awesome to me in the short time that I have gotten to spend with him."
Looking ahead to spring training 2021.
With spring training just weeks away, the top things Moniak said he wants to work on is plate discipline and putting together good at-bats. "I've always had good bat-to-ball skills — being able to put the ball in play," he said. "I want to be more selective, get my pitches, take my walks."
Moniak added that ever since high school, his focus every offseason, really, is to improve every aspect of his game— whether it is getting stronger and faster, or working on swing mechanics.
"Maybe a mental thing, [too], which I think it is right now," he continued. "Just going in there, putting together a good spring, and showing what I can do [is my goal]."
"After that, it is out of my control."