Phillies-Mets rivalry will come back in a big way in 2021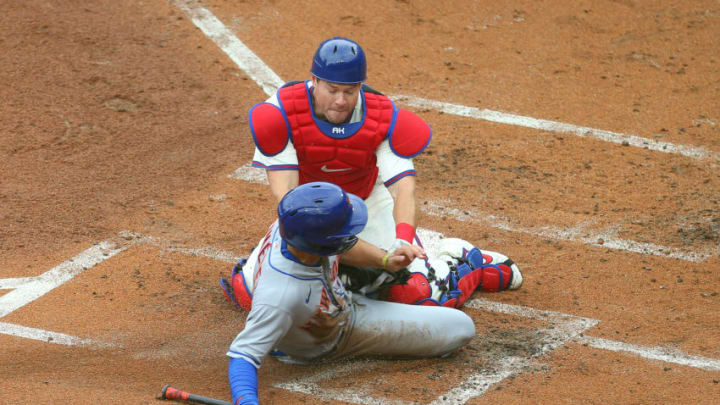 Andrew Knapp #15 of the Philadelphia Phillies (Photo by Rich Schultz/Getty Images) /
Bryce Harper #3 of the Philadelphia Phillies (Photo by Douglas P. DeFelice/Getty Images) /
Major League Baseball needs more rivalries besides the longstanding one between the New York Yankees and Boston Red Sox. Free agency and comradery among star players have detracted from some of the competitiveness between individual players, but if both franchises are in it to win it, that issue may resolve itself.
Rivalries are instigated by front offices these days; there is a Cohen-Dombrowski-John Middleton competition that will stir the fire. Those flames should be felt by the players, who understand that they are playing for a city and region — something more than themselves, and something that should drive them to simply want to beat their rivals.
To further this restating of competitiveness among division rivals, there is more to be done. Neither the Phillies nor the Mets are division favorites, although that may change when the offseason concludes.
It's going to take landing a polarizing figure, such as Bryce Harper, to do so. The Phillies have their figurehead in Dombrowski, and with Cohen at the helm — a player such as Carlos Beltran from the late 2000s may establish the "who's better" talk from the national vantage point.
DJ Lemahieu is the biggest fish in the free agency pond this time around — a player that has risen to become the premier bat in today's game, aside from Mike Trout. Trade talks have surfaced around Francisco Lindor, a perfect fit for creating a villain in New York.
Michael Conforto #30 of the New York Mets (Photo by Mitchell Leff/Getty Images) /
Creating star competition is one thing, but culture is another. And it begins with the fans. Younger generations forget how much we wanted the Mets to fail, and how much we craved the Phillies to succeed.
When sports truly come back with fans in attendance at sold-out venues, there is hope that people remember their fandom. Fans need something to cheer for — or against, in the case of New York.
If MLB is to sustain itself, it must adapt and create the intricate rivalries the NFL and NBA can advertise to fans. And in two of the biggest markets in the U.S., all it takes is a few pushes of the right buttons.