Phillies: Didi Gregorius, J.T. Realmuto free agency updates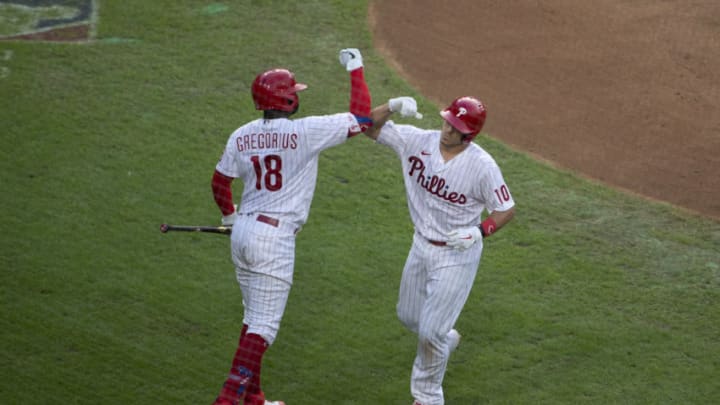 J.T. Realmuto #10 and Didi Gregorius #18 (Photo by Mitchell Leff/Getty Images) /
Didi Gregorius and J.T. Realmuto both recently gave a glimmer of hope to Phillies fans
Everyone knows how well Didi Gregorius and J.T. Realmuto performed in a Phillies uniform over the  shortened 2020 season. Unfortunately, both will soon enter free agency, with the World Series ending Tuesday evening in favor of the Los Angeles Dodgers. There is still some hope for Phillies fans that one or both return in red pinstripes for the 2021 season, however.
In a recent interview with WFAN, Gregorius said he "really enjoyed" his time in Philadelphia and his teammates. Reunited with his former New York Yankees manager Joe Girardi — coupled with his strong offensive production — it makes sense for the power-hitting shortstop to return. Gregorius seemed to rule out a Yankees reunion, all-the-while paying homage to All-Star Gleyber Torres.
As for the "best catcher in baseball," Realmuto was spotted enjoying time in Las Vegas with slugging outfielder Bryce Harper and their wives.
Hopefully, this is a positive toward the Phillies retaining Realmuto, given his very close relationship with Harper. Realmuto certainly was a factor in Harper's decision to sign with the Phillies before the 2019 season; both have served as two of the best, if not, the best players on the team since.
Yet, there is still too much unknown for Gregorius and Realmuto and where they stand.
For one, no one is truly sure what the free-agent market will look like. The Mookie Betts mega-deal with the Dodgers does seem like it could bode well for other stars like Realmuto, but probably not for a borderline All-Star like Gregorius. The Dodgers star hit the game-winning home run in the 2020 World Series clincher on Tuesday.
With that, John Middleton does not seem ready to spend enough money to retain both Gregorius and Realmuto, while also adding other necessary players.
Finally, the Phillies still have a few vacancies to fill — including general manager, pitching coach and bullpen coach. Two-time World Series champion Dave Dombrowksi is reportedly interested in replacing Matt Klentak as general manager. Until a new GM is in place, it will be hard to tell what the real plans are for both Realmuto and Gregorius.
A benefit for the Phillies would be extending each of them a qualifying offer. The offer would be a one-year, $18.9 million salary for the 2021 season, as explained by NBC Sports Philadelphia's Corey Seidman here. If Realmuto or Gregorius sign with other teams, and the Phillies have offered them a qualifying offer, then the Phillies would receive draft pick compensation. A small consolation prize, nonetheless.
Let's just hope Realmuto and Gregorius get what they deserve in this unpredictable offseason; a contract that pays them appropriately — hopefully in Philadelphia.