Phillies: Didi Gregorius, J.T. Realmuto enter free agency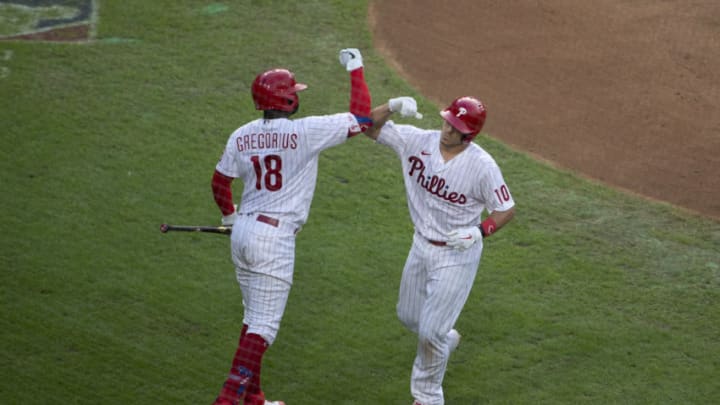 J.T. Realmuto #10 and Didi Gregorius #18 (Photo by Mitchell Leff/Getty Images) /
Phillies stars Didi Gregorius and J.T. Realmuto may have played their last game with the team
The Philadelphia Phillies needed three things to happen on Sunday for them to qualify for the postseason for the first time since 2011.
Two out of the three came to fruition  — the San Francisco Giants losing to the San Diego Padres and the Milwaukee Brewers losing to the St. Louis Cardinals. The one that did not happen was in the team's control the most  — the Phillies defeating the Tampa Bay Rays in Sunday's season finale.
In fact, the Phillies failed to even produce a run, as they were shut out 5-0. Star players J.T. Realmuto and Didi Gregorius now enter free agency; both singled across four plate appearances in Sunday's defeat.
This season, Realmuto slashed .266/.349/.491 with six doubles, 11 home runs, and 32 RBI across 47 games. Gregorius, meanwhile, slashed .284/.339/.488 with 10 doubles, two triples, 10 home runs, and 40 RBI spanning all 60 games.
Only rookie Alec Bohm (11) bested Gregorius for the team lead in doubles; although, the shortstop did lead manager Joe Girardi's squad in RBI, followed by Andrew McCutchen (34), Bryce Harper (33), and Realmuto.
Gregorius signed with the Phillies on a one-year, prove-it deal last offseason after undergoing Tommy John surgery while with the New York Yankees; he surely showed that he can still be a valuable player.
Realmuto and the Phillies have been in the headlines throughout most of the season in regards to their contract talks. The two sides were never able to come to an agreement, with talks being paused during uncertainty between the end of spring training and the start of summer camp.
With the New York Mets under new ownership, there are worries the Phillies division rivals could steal their perennial All-Star catcher with a more enticing deal than they are willing to offer. The Washington Nationals will reportedly also be in the hunt this offseason for Realmuto's services.
While donning red pinstripes, Realmuto logged 194 hits in 192 games. Perhaps Sunday was not only his last with the Phils, but also Gregorius' last.