Jake Arrieta, offense stellar as Phillies blank Braves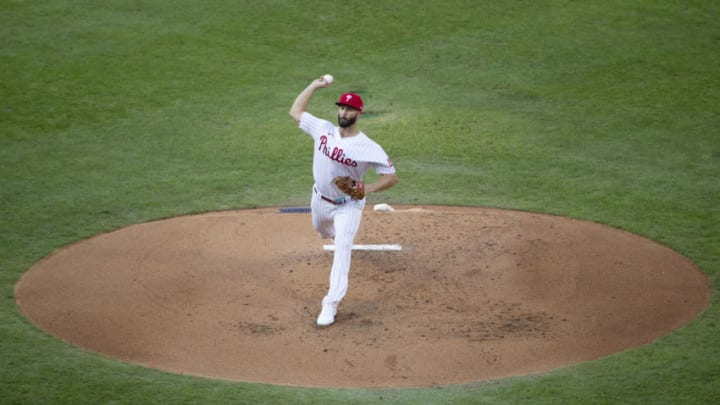 Jake Arrieta #49 of the Philadelphia Phillies (Photo by Mitchell Leff/Getty Images) /
Phillies starter Jake Arrieta was dominant in the team's series opener win against the Braves
The Philadelphia Phillies could not ask for anything more from their veteran starting pitcher Jake Arrieta in Saturday's four-game series opener opposite Kyle Wright and the Atlanta Braves at Citizens Bank Park.
Spanning six scoreless innings, 89 pitches, and 56 strikes, the 11-year veteran — making his 57th career start with the Phillies — allowed just three hits and one walk while striking out six batters.
And, thanks to the Phillies offense producing a pair of home runs against Wright — along with a late-inning, RBI-single insurance run — Arrieta was able to earn his first winning decision since June 30, 2019.
The 5-0 Phillies victory helped manager Joe Girardi's squad reach the .500 mark for the second time since season — first 1-1, now 4-4 record. The 12-year skipper now needs just eight more wins to reach 1,000 for his career.
J.T. Realmuto, Jay Bruce go yard
Amid a dominant performance from Arrieta, two fourth-inning home runs powered by catcher J.T. Realmuto and left fielder Jay Bruce provided all the offense the Phillies needed for the victory.
On a 1-1 count to lead off the frame, Realmuto slugged his team-leading fourth home run of the season that traveled 427 feet to left field with an exit velocity of 104.9 miles per hour. The blast marked Realmuto's third straight game with a home run, increasing his RBI total to six over the stretch and nine overall for the 2020 season.
https://twitter.com/Phillies/status/1292240798885519360
Three batters later, after shortstop Didi Gregorius singled and third baseman Jean Segura walked, Bruce sent the first pitch he saw to the deep right-center field seats. The home run marked Bruce's second of the season (increasing his RBI total to five) and his 14th in red pinstripes spanning 58 overall games overall dating back to last season.
Gregorius added an insurance run in the eighth, singling home Bryce Harper from third for his fourth RBI as a Phillie. Harper had doubled to lead off the frame, his first such hit of 2020 and the 220th of his career.
The Phillies entered the game with 18 of their 35 runs scored (51.4 percent) in 2020 coming via the long ball; now, 22 of their 40 runs (55.0 percent) have scored from a home run through eight games.
Head-turning fielding plays
A few stellar fielding plays helped preserve Arrieta's scoreless performance. The first came from Harper in right field with one out in the top of the fifth inning.
The six-time All-Star made an outstanding diving catch, fully extended; he covered 56 feet in only 3.7 seconds during the play, which had a 35 percent catch probability, according to Statcast.
https://twitter.com/Phillies/status/1292244407228551168
In the sixth, Arrieta seemed to have his first difficult half-inning of the game. The Braves' Adeiny Hechavarria and Ronald Acuna Jr. both reached to lead off via a single and walk, respectively.
On the first pitch of opposite third batter faced that inning, Arrieta induced a line out double play from Dansby Swanson to shortstop Gregorius, which could have turned into a triple play had Acuna Jr. on first not returned to the first base bag quick enough.
Freddie Freeman made Arrieta work for the final out of the sixth; an eight-pitch at-bat resulted in an extended grab from Bruce in left field, preserving the then-4-0 lead.
An improved bullpen
After a less-than-ideal start to the 2020 season, the Phillies bullpen on Saturday put together perhaps their best performance so far. In relief of Arrieta, Jose Alvarez (2/3 IP), Tommy Hunter (1 1/3 IP), and Deolis Guerra (1 IP) combined to throw three scoreless innings, allowing only one hit while striking out three batters. Guerra accounted for two of the strikeouts in the ninth.
Phandemic Krew
The Phandemic Krew, just beyond the center field gates in Ashburn Alley, was out in full force once again.
They even had a special chant for Phillies field reporter Gregg Murphy, who NBC announced would not return following the 2020 season. The group famously drew recent attention from Yankees manager Aaron Boone for their use of an air horn during live game at-bats at Citizens Bank Park.
Sunday doubleheader
Next up for the 4-4 Phillies includes a doubleheader where top pitching prospect Spencer Howard will make his MLB debut. Fellow right-hander Vince Velasquez will start the other game.