Phillies reveal interactive, socially distanced 2020 plans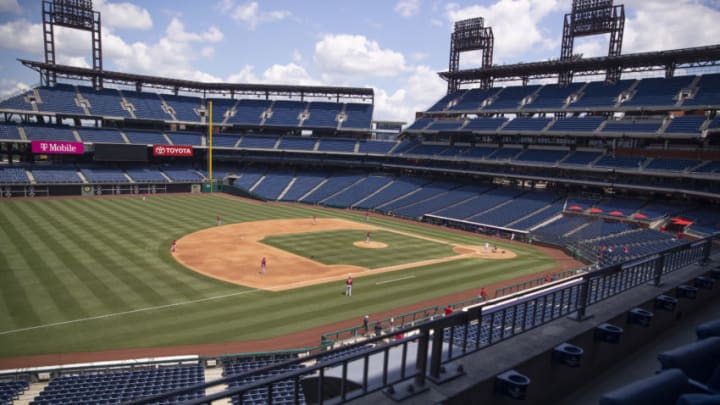 A general view of Citizens Bank Park (Photo by Mitchell Leff/Getty Images) /
The Phillie Phanatic
Phillie Phanatic (Photo by Michael Reaves/Getty Images) /
Human fans won't be allowed inside Citizens Bank Park, but perhaps the Phillies' biggest fan, overall, the Phillie Phantic, will still be in attendance.
What will the beloved mascot do without any fellow fans to entertain? Buck told Breen that the Phanatic will not be really sure what to do, but, by the third game, "he's going to have three really cool plans."
"He may get a lot of TV time. He'll be running around Ashburn Alley even though it's going to be closed," Buck added. "He'll be doing stuff like that."
We will not be seeing the Phanatic taunt opposing players on the ATV, nor on the dugout, however, due to social distancing guidelines. Time will tell just what he does.
Opening Day
The Philadelphia Phillies march into the stadium (Photo by Drew Hallowell/Getty Images) /
Much of the pomp and circumstance of the usual March or April home opener will be different in 2020. Players, coaches and the starting lineup will be introduced, but likely not side-by-side on the first and third baselines due to not six-feet distance recommendations.
And, the anthem will be played via a prerecorded video, rather than live.
So, when Opening Day on July 24 rolls around, clearly, Phillies fans will have to adjust to many new of the aforementioned things. Ranging from cardboard cutouts, to pumped-in crowd noise, it surely will be a season to remember once the pandemic is all said and done. Hopefully, most of the players will be able to remain healthy, and those who do not, recover with speed.
If all 60 games and the subsequent postseason are able to be played, who knows, maybe 2020 is the season the Phillies will come away with their third World Series championship.