Phillies: A Look Back at Home Stadiums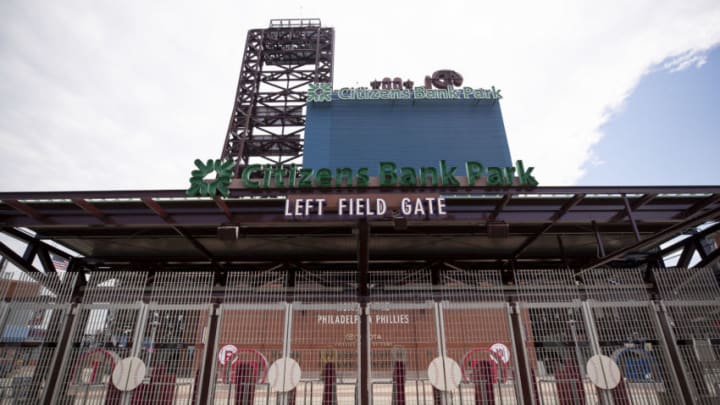 PHILADELPHIA, PA - JULY 03: A general exterior view of Citizens Bank Park during the summer workouts on July 3, 2020 in Philadelphia, Pennsylvania. (Photo by Mitchell Leff/Getty Images) /
PHILADELPHIA – APRIL 4: Fans stand at attention during the national anthem before the home opener between the Philadelphia Phillies and the Pittsburgh Pirates at Veterans Stadium on April 4, 2003 in Philadelphia, Pennsylvania. The Pirates defeated the Phillies 9-1. (Photo by Al Bello/Getty Images) /
Veterans Stadium (1971-2003)
One of the most iconic stadiums in Philadelphia sports history, Veterans Stadium. The Phillies called the Vet their home for 32 seasons before leaving the stadium to head to Citizens Bank Park. The stadium cost roughly $52 million, and was also the home of the NFL's Philadelphia Eagles. The multi-purpose stadium had a capacity of around sixty-thousand fans.
To this day,  Veteran Stadium is known to Philadelphia fans as one of the most iconic and known stadiums in history. It's rich in history and the moments – both for the Phillies and Eagles who played there concurrently.
The Vet had a lot of special moments and historic events take place in its lifetime.
The Philadelphia Phillies played their first game at Veterans Stadium on April 10, 1971 against the Montreal Expos.  The first ball was dropped by a helicopter to the pitcher.
The stadium was known for providing both the Phillies and Eagles a good home-field advantage.
The stadium's seating was uniquely designed, with a capacity of 61,831 in its final year of operation.
Some Philadelphia fans, to this day, would prefer the Veterans Stadium over any of the current stadiums the Philadelphia sports teams has to offer –  like Citizens Bank Park, Lincoln Financial Field, and the Wells Fargo Center.
Veterans Stadiums got rave reviews by fans who were lucky enough to get to visit and catch a game there before it was demolished.
There were also some issues with Veteran Stadiums. The seats were too far away from the field, causing spectators to have some difficulty to be able to see the game.
Nonetheless, it goes down as one of the most historic and iconic stadiums of all time in Philadelphia history