Phillies Summer Camp 2020: 10 Things You Need to Know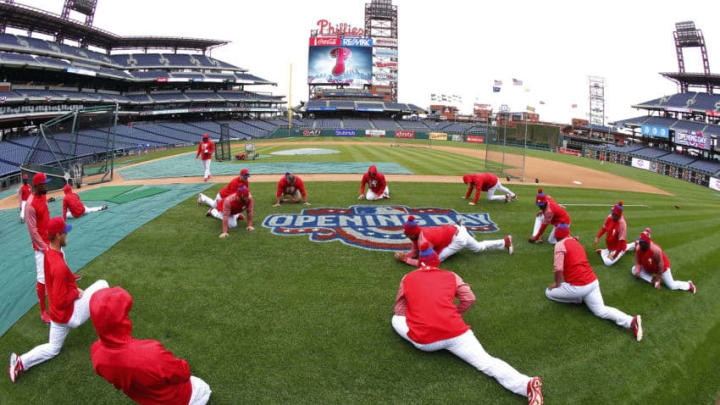 Philadelphia Phillies stretch (Photo by Rich Schultz/Getty Images) /
Here are 10 things you need to know for the 2020 Phillies summer camp
This week marks the official start to Philadelphia Phillies summer camp. On Wednesday, players who test negative for COVID-19 may begin working out at Citizens Bank Park. This Friday will be the first full-squad workout. Here are 10 things you need to know for summer camp.
1. COVID not going away
Last month, the Phillies had seven players (and five staff members) test positive for COVID-19. Six of them used the team's spring training complex in Clearwater. In a Monday conference call with reporters, Klentak said that a "handful" of players are expected to soon be placed on Major League Baseball's new "COVID-19 Related Injured List."
The identities of the players are not known; Klentak continued that none of them require hospitalization and it is "too soon to tell" if any will be behind in terms of readiness for the 2020 season.
Players who get placed on the list does not necessarily mean they have tested positive for COVID; it can also be used for those exposed to someone who has tested positive, or for those who show symptoms even if their test returned negative.
Once placed on the list, players must meet several criteria before returning, including two consecutive negative COVID tests and not having a fever for at least 72 hours.
2. Phillies to train at Citizens Bank Park, FDR Park
Once full team workouts begin on Friday, players will split between Citizens Bank Park and their nearby youth academy at FDR Park. Phillies staff has been working "around the clock" to prepare and get the fields MLB-ready, according to general manager Matt Klentak.
"Right now, there's an effort being made to stagger the workouts as best we can, both in terms of the number of people and terms of using multiple fields," Klentak said.
While fans might get an unprecedented Clearwater-esque glimpse of active MLB training in South Philadelphia, do not expect to see Bryce Harper, Aaron Nola, nor other notable Phillies at the pubic park. According to The Athletic's Matt Gelb, the Phillies will not send their star players there but will have increased security.
Gelb continues that the team has turned the Diamond Club into a clubhouse, and the concourse into a weight room — all to support social distancing.
https://twitter.com/PatGallenCBS3/status/1278028461525872640