Phillies to base entire 60-player pool at Citizens Bank Park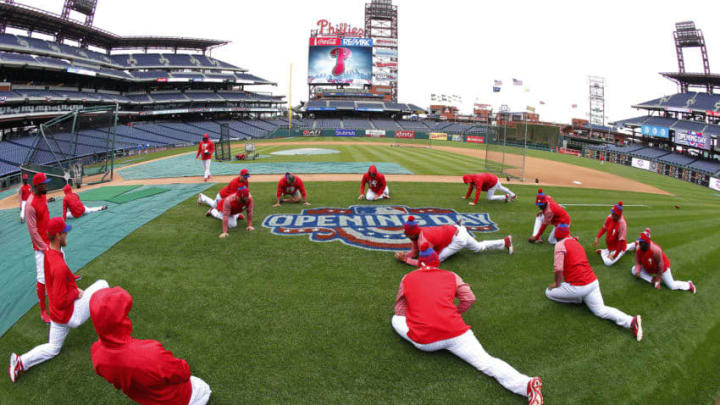 Philadelphia Phillies stretch (Photo by Rich Schultz/Getty Images) /
The Phillies must submit their 60-player pool list by Sunday afternoon
The first couple of steps toward Major League Baseball resuming action took place on Friday. First, Philadelphia Phillies players arrived at Citizens Bank Park to get tested for COVID ahead of reporting back next week for spring training.
Also, at noon, the players transaction freeze was lifted — allowing teams like the Phillies to negotiate contracts (e.g., J.T. Realmuto), sign, release, or trade players, etc.
The next important date on the Phillies' calendar will be this Sunday, June 28, at 4 p.m., as clubs are required to submit their list "Club Player Pool" — which consists of up to 60 players that will be invited to attend spring training, as well as be eligible to participate in Major League games this summer and fall.
According to The Athletic's Jayson Stark, the Phillies will bring all 60 players within their "pool" to Philadelphia and base their entire spring training out of Citizens Bank Park.
Stark noted the Phillies discussed having an alternate camp at Lehigh Valley, and that, now, they will likely have to utilize extra fields near their stadium to make things work.
By Opening Day, the Phillies would take players not on their active roster, but on the 60-player pool list, to an alternate training site.
RELATED | Phillies 'exploring' fan cardboard cutouts to fill seats
Earlier in the week, NBC Sports Philadelphia's Jim Salisbury had reported the Phillies would use their Lehigh Valley facility, in addition to Citizens Bank Park, "to space out the group for spring training 2."
It is not clear what changed since that would result in the organization opting to centralize camp in South Philadelphia.
According to MLB's 101-page operations manual for the 2020 season, any players not invited to Major League Spring Training — such as players who likely would not make the 30-man Opening Day roster but are still being added to the 60-player pool — would be directed to an "alternate training site."
MLB mandates each club maintains a secondary baseball facility where they would house and train players in the pool who are not on the active roster. The caveat here is, clubs are not required to begin operating the alternate training site until Opening Day. That is where the Phillies' decision to keep players at or around Citizens Bank Park for spring training becomes permissible, for now.
RELATED | Phillies: Larry Bowa says baseball needs to win fans back
Sixty-player pools, according to the manual shall consist of all players on a club's 40-man roster that it anticipates will participate in the upcoming season, as well as any non-40-man roster players under contract.
If the Phillies want to add a player to its pool and either active roster or alternate training site, they must select a player to be removed from the pool "by means of a bona fide transaction," such as through trade, waiver claim, return of Rule 5 selection, release, outright assignment, designation for assignment, placement on the 60-day Injured List, placement on the COVID-19 Related Injured List, or placement on the Suspended List (by Club), Military, Voluntarily Retired, Restricted, Disqualified, or Ineligible Lists.
Once the season begins, all non-active roster players would report to the training site; clubs may carry up to three of these players to make up their "taxi squad" while on the road.
Phillies pitchers and catchers are due to report next Wednesday, July 1, followed by the first full-squad workout two days later, Friday, July 3. Even if the Phillies spread out to surrounding fields around Citizens Bank Park, it might get a little crowded compared to the usual 25 or so players that don red pinstripes at the venue.