Phillies 2020 Draft: Club inks 1st-round pick RHP Mick Abel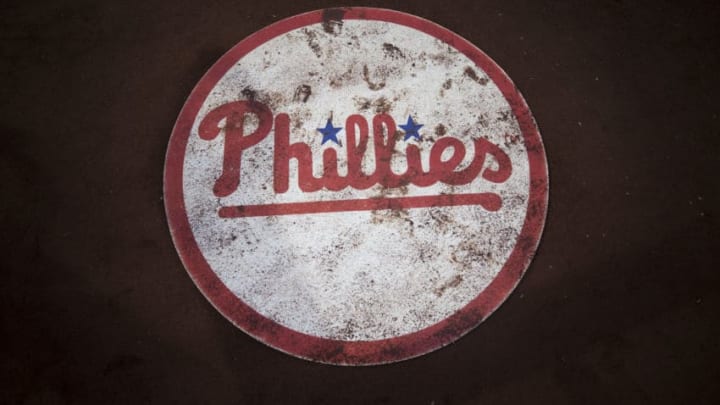 A general view of the Philadelphia Phillies batting circle (Photo by Mitchell Leff/Getty Images) /
The Phillies have signed their top pick in this year's draft, RHP Mick Abel
The Philadelphia Phillies have now come to terms with three of their four 2020 MLB Draft picks. In addition to fourth- and fifth-rounders right-handed pitcher Carson Ragsdale and outfielder Baron Radcliff, the Phillies announced on Wednesday that they have signed their top, first-round pick, prep RHP Mick Abel.
Selected 15th overall out of Jesuit High School in Portland, Oregon, Abel stands at 6-foot-5 and is 198 pounds. The right-hander reportedly is the fifth first-round pick from the unique five-round 2020 draft with an over-slot signing bonus, according to MLB.com's Jim Callis. Abel's 15th overall pick was valued at $3.886 million, however, he signed with the Phillies for $4.075 million.
RELATED | Phillies 2020 Draft: Matt Klentak talks adapting, four picks
In a recent interview with former Phillies infielder and current broadcaster Kevin Frandsen, General Manager Matt Klentak says he could tell just by talking to Abel of how prepared, passionate, disciplined, and confident he is.
"He's all about getting better, learning, and growing."
Klentak also acknowledged the risk of drafting a high school or prep arm pitcher so why, and that "frankly, that's part of the reason we've taken so many bats in the first round the last few years." Yet, despite precedence, the Phillies rolled the dice by taking Abel.
https://twitter.com/Mickabel13/status/1275863118019780611
"Going into this draft, we thought long and hard about how this draft might unfold differently than in prior years," Klentak says. "Obviously, the fact that there were no games this spring, or very few games, that was going to have an impact."
"The way we thought about it was, there are going to be players in this draft who if you had a crystal ball and you could know exactly what would have happened if they performed this year, they could have gone out, performed really well and moved way up the draft board," Klentak continued. "Or, you could have someone that struggled, got hurt or something else happened to him who fell by several rounds."
RELATED | Phillies: Draft pick Mick Abel FaceTimed with Bryce Harper
Klentak also said Abel is "really wise beyond his years and he's got a very bright future as a player, both because of his physical talents but also what he's got upstairs." Also, Callis considers him the "best prep pitcher" from the draft, with a "terrific combination of stuff and polish," a 93-to-98 miles per hour fastball, along with a "potential plus slider and changeup."
Just shortstop Casey Martin, selected by the Phillies in the third round, is their only of four draft picks yet to sign ahead of the August 1 deadline. Martin recently indicated to KTHV that he intends to sign with the Phillies and is open to a position change, if need be.
The Phillies have also recently come to terms with several undrafted amateur free-agent pitchers.