Phillies prospect Connor Hinchliffe discusses his unique path into the minors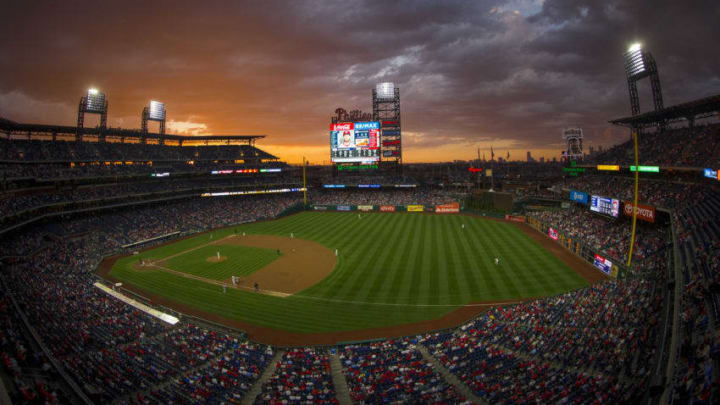 A general view of Citizens Bank Park (Photo by Mitchell Leff/Getty Images) /
Connor Hinchliffe went from being a local catcher to a Phillies prospect
With the hype of the MLB draft keeping everyone in a bit of a baseball frenzy, a prospect who is already in the Phillies system has caught some fan's attention recently.
Known for his unique pathway into the minors, Philadelphia Phillies' pitching prospect Connor Hinchliffe sat down with That Ball's Outta Here contributor David Esser to talk about life, baseball, and some other cool stories from his first year as a member of the Phils' organization.
Like previously mentioned, Hinchliffe did not have your "stereotypical" pathway into minor league baseball. Initially starting out as a catcher, Hinchliffe was offered the opportunity to play collegiate baseball at LaSalle University (located in Philadelphia). However, towards the end of his freshman year the team was looking a little bit thin in the outfield, so the coaching staff asked him to put down the catcher's mitt and go play some outfield.
"I could definitely go stand in the outfield and watch a ballgame for nine innings out there, so I did that and it went well… So Sophomore year comes by and I played majority of the year in the outfield and actually split some time at first base too".
Two years into school, and Hinchliffe was already three positions deep. However, following the conclusion of his sophomore year the majority of the LaSalle coaches were actually let go. This presented Hinchliffe with a pretty unique opportunity to potentially try out another new position.
"To the advice of my mom actually (I got to give her credit for once) she said you know what you should really try to pitch again. I said yea why not, I'm coming back, I'm going to learn how to pitch, whatever!"
Hinchliffe messed around with some pitches for the summer, and even presented the idea of making the switch to his new head coach (David Miller). Like one would assume, the coaching staff more or less ignored the suggestion, but when injuries ravaged LaSalle's bullpen, Hinchliffe was there and still ready to give it a try.
More from Phillies Prospects
Hinchliffe appeared in 16 games as a pitcher his junior season, but really blossomed during his final year of college ball. Coming on as a reliever in 28 games (led the Atlantic 10) and pitching 35.2 total innings, Hinchliffe recorded 13 saves and a 2.28 ERA. Hinchliffe held opposing batters to an absurd .181 batting average, and ranked as one of the national leaders in total saves.
Despite not being drafted initially, Hinchliffe was receiving some scouting interest from both the Philadelphia Phillies and the Boston Red Sox following a showcase event. A Pottsville, PA native, it was a no-brainer when the Phillies called him offering a contract.
"Philly fans are diehard, everybody knows that… Everyone from my hometown is a Phillies fan, everyone from where I went to college is a Phillies fan, I went to school in Philly, I lived in Philly.. To be able to suit up in the uniform and the jersey I see walking down the street everyday? It's awesome, it's something I almost can't even put into words. Just knowing that the support and the base I have behind me, it's awesome."
Hinchliffe had a brief stay down in Florida for Spring Training a few months ago (before the MLB season was suspended), and is now just focusing on staying in shape for whenever baseball does return. Looking to build off an impressive rookie season where he posted a 1.82 ERA in the Gulf Coast League, Hinchliffe has a bright future ahead of him around baseball (he received his "Pitching and Pitch Design Certification" from Driveline Baseball back in May).
Hinchliffe also spoke about a cool Spencer Howard story from Spring Training, his overall experience with Driveline Baseball, his own personal baseball blog site, and a wild childhood Derek Jeter story. To hear about those and the rest of the interview, make sure to check out the full podcast episode.
You can watch it on Youtube here or you can listen to it on Spotify and Google Podcasts.
Make sure to also check Connor Hinchliffe out on Twitter: https://twitter.com/conhinch, and go show some love to his new baseball blogging website as well.