Phillies rumor: Spring training likely to resume in Philly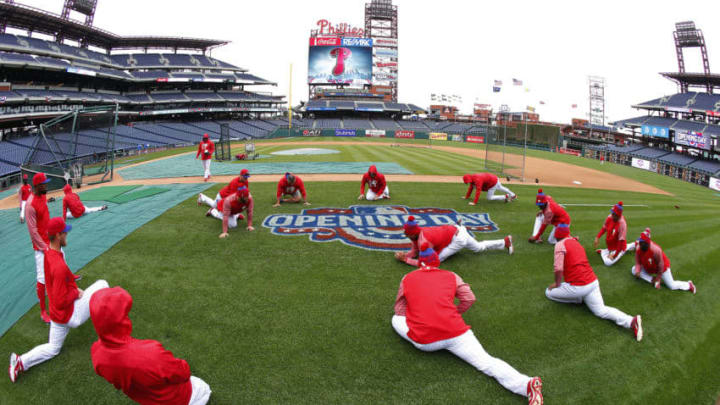 Philadelphia Phillies stretch (Photo by Rich Schultz/Getty Images) /
If a 2020 season gets the "green light," Phillies spring training is reportedly likely to resume at Citizens Bank Park, rather than Clearwater, Florida.
Whether or not a 2020 Major League Baseball season will happen is still up in the air, as the league and players association continue negations.
Also unknown are specifics, such as how many games will be played and roster size. But, a definite factor of at least getting the new season underway would be holding some form of a "Spring Training II," where players would have at least a couple weeks to get their bodies in physical shape for the season ahead.
If the Phillies are given the "green light" to start preparing, their "Spring Training II" likely would take place in Philadelphia, rather than at their usual training home in Clearwater, Florida, according to NBC Sports Philadelphia's Jim Salisbury.
RELATED | Phillies news: Commissioner Rob Manfred 'hopeful' for season
Teams are likely to be granted their own decision on where to resume spring training; and, by the Phillies choosing Citizens Bank Park, they would lessen the burden on their players and personnel going through multiple initial health protocols.
"Nothing is certain because there are still many big-picture details to work out, but that is the plan being discussed," Salisbury says. "If the Baltimore Orioles or the teams from New York were to hold camps in their home parks, the Phillies would have some logical partners for exhibition games. Otherwise, Phillies players could get live reps in intrasquad games. Again, details are still being worked out."
A part of what makes the Phillies' Carpenter Complex in Clearwater great is its proximity to several baseball fields. Clearly, Citizens Bank Park does not multiple fields, however, Salisbury notes there are five outdoor pitcher's mounds at Citizens Bank Park, and more — along with two full-size diamonds — at the Phillies' nearby Urban Youth Academy at FDR Park. Not to mention, the Phillies have ownership stakes of their Double- and Triple-A affiliates in Reading and Lehigh Valley.
RELATED | Phillies: Joe Girardi discusses spring training, injuries
The original spring training ended March 12, exactly two weeks before the originally scheduled Opening Day. A "sequel" is expected to last three weeks and could begin around mid-June, if a deal is agreed upon between both sides.
The Phillies had not yet decided the fate of their several non-roster invitees, including Drew Storen, Francisco Liriano, Neil Walker, and Josh Harrison, among others.
Roster cuts would still need to be made. But, could Citizens Bank Park accommodate a larger-than-normal roster while still socially distancing? Salisbury thinks so.
"The Phils still have 53 players on their spring roster, but there are two spacious clubhouses in the ballpark that would allow players to spread out — provided they are even allowed to use the clubhouse," he writes.
So, a potential 82-game season, realigned divisions, an expanded playoff format, and now, the Phillies training at their home ballpark in South Philadelphia. If baseball is to return this year, it surely will take some getting used to.