Phillies: Top 5 most overrated players in team history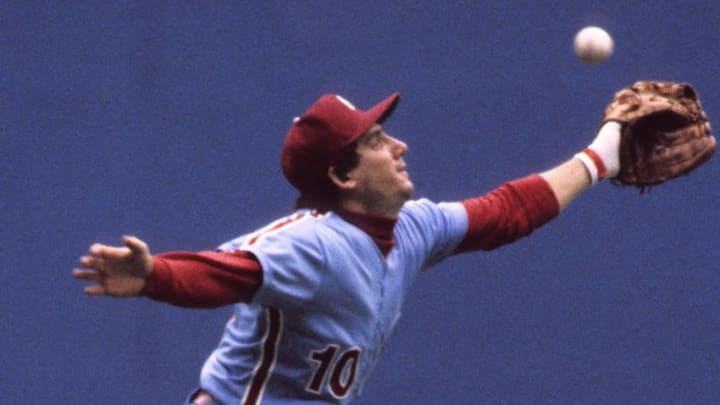 MONTREAL - OCTOBER 7: Larry Bowa #10 of the Philadelphia Phillies misses the ball during the National League Divisional Playoffs against the Montreal Expos at Olympic Stadium on October 7, 1981 in Montreal, Quebec, Canada. (Photo by Ronald C. Modra/Getty Images) /
Brett Myers, Philadelphia Phillies (Photo by Drew Hallowell/Getty Images) /
Which Phillies fan favorites should be considered "overrated"
When it comes to reminiscing on former Phillies greats, the word "overrated" is rarely a term thrown around by fans. It's simply far more fun to reflect back and point out all the underrated ex-Phils who donned the red and white pinstripes. Especially when it comes to the championship squads of 1980 and 2008, it's hard to really pin anyone as "overrated."
However, reality is often disappointing. While the Phillies have had their fair share of all-time greats come through the city over the years, they've also had their fair share of overrated players come through. Whether it's through All-Star game selections, "Wall of Fame" inductions, or even just general fan perception, here are the top five Phillies in franchise history who were perceived as better than they actually were.
This article is almost guaranteed to rub some loyal fans the wrong way, but stick with me as I lay out the numbers to back each claim.
#5. Brett Myers
Brett Myers is one of the most beloved players when it comes to that glorious championship winning roster of 2008. A man who still regularly interacts with Phillies fans today on social media, it's hard not to like everything about the guy. However, when it comes to his actual on the field performance with the Phillies, he was a super average pitcher.
In his eight seasons with the Philadelphia Phillies, he posted a career ERA of 4.40. He only recorded two seasons with an ERA under 4.00 (2005, 2006), and even saw his ERA climb all the way up to 5.52 during the 2004 season.
A lot of fans may be quick to point out that he played a crucial role in the team's 2008 World Series run, but even then Myers was a slightly below average starter by today's standards. His 4.55 ERA and 1.379 WHIP during the '08 season would be comparable to that of modern day starters Zach Eflin and Vince Velasquez (yikes!).
Myers did have some strong outings during the 2008 postseason, pitching well against both the Brewers and Rays, but even then he still had his mishaps. Myers allowed five runs in five innings during his sole start in the NLCS.
Phillies fans hold Myers in a super high light today, likely due to his bubbly personality and his World Series ring. However, when it comes to actual production, Myers simply wasn't all that good.
*(Myers best season came in 2009, when he pitched for the Houston Astros, not the Phillies)*