Phillies: Top 5 most overrated players in team history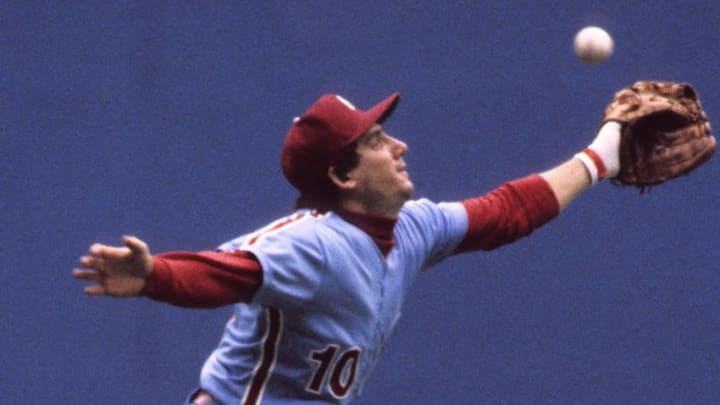 MONTREAL - OCTOBER 7: Larry Bowa #10 of the Philadelphia Phillies misses the ball during the National League Divisional Playoffs against the Montreal Expos at Olympic Stadium on October 7, 1981 in Montreal, Quebec, Canada. (Photo by Ronald C. Modra/Getty Images) /
UNSPECIFIED – CIRCA 1978: Shortstop Larry Bowa #10 of the Philadelphia Phillies bats during an Major League Baseball game circa 1978. Bowa played for the Phillies from 1970-81. (Photo by Focus on Sport/Getty Images) /
#4. Larry Bowa
Easily the most controversial name to land on this list, the longtime Phillies shortstop and manager has unfortunately found himself as one of the more misperceived Phillies of all time. While he no doubt deserves to be remembered amongst Philadelphia fans for the prominent role he played during the 1980 World Series run, his statistical production simply never matched up with the way fans viewed him.
While Larry Bowa was no doubt remembered primarily for his fielding (two Gold Gloves), even then his on-field production never matched up with some of the accolades he received. Honored as an All-Star on five different occasions, there's a legit argument to make that he was undeserving of said recognition during at least two of those seasons.
During his All-Star season of 1976, Bowa recorded a horrific OBP of .283. By all intents and purposes that's absolutely atrocious. Elite fielding and electric baserunning aside, making it on base 28.3% of the time as a shortstop is by no means worthy of an All-Star nod. For reference, Maikel Franco had a higher OBP last year (.297).
During Bowa's All-Star season of 1979, his offensive production was once again equally as terrible. His batting average dipped to .241 and his OBP barely hovered above .300. Even during the iconic World Series run of 1980, Bowa posted one of the worst on-base percentages on the team.
For the record, Bowa is still easily the best defensive shortstop in Phillies history. He led the NL in fielding percentage on six different occasions and sits near the top of the MLB in terms of outfield assists and double plays. However, when it comes to looking at Bowa as a complete, all-around baseball player, he simply wasn't that.
It's hard to even compare Bowa to other Phillies shortstops like Jimmy Rollins when Bowa so mightily struggled at the plate.