Phillies rumor: 2020 season could begin at home park by July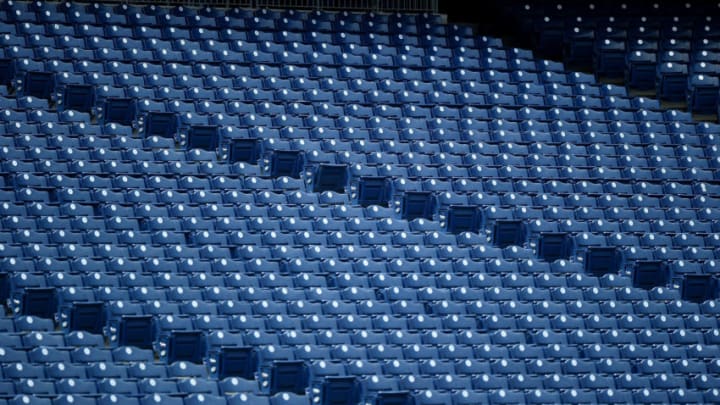 Empty seats at Citizens Bank Park (Photo by G Fiume/Getty Images) /
Empty seats at Citizens Bank Park (Photo by G Fiume/Getty Images) /
According to USA Today, one of the latest scenarios has the Phillies' 2020 season starting in late June in their home stadium — albeit with no fans.
There appears to be growing optimism that a 2020 Major League Baseball season will happen. We have heard several scenarios as to how it could be played out, among them including playing at spring training sites in Arizona and Florida.
The latest rumor has the Philadelphia Phillies starting the season — with at least 100 games — no later than July 2, reports the USA Today's Bob Nightengale, who says MLB officials have become "cautiously optimistic" of the considered plan.
RELATED | Phillies: Raul Ibanez's son among COVID-19 impacted athletes
In this scenario, the Phillies would play in their home ballpark, albeit with no fans. Nightengale also reports a concept "gaining support among owners and executives": three 10-team divisions, aligned according to geography; teams would play only within their division — ridding of the traditional American and National leagues.
"This is going to be a season like we've never seen," one of the executives told Nightengale. "But that's fine. It's at least a season. It's all coming together. I'm very optimistic."
---
Potential Realigned Divisions for 2020 Season
East: New York Yankees and Mets, Boston Red Sox, Washington Nationals, Baltimore Orioles, Philadelphia Phillies, Pittsburgh Pirates, Toronto Blue Jays, Tampa Bay Rays, Miami Marlins
West: Los Angeles Dodgers and Angels, San Francisco Giants, Oakland Athletics, San Diego Padres, Arizona Diamondbacks, Colorado Rockies, Texas Rangers, Houston Astros, Seattle Mariners
Central: Chicago Cubs and Chicago White Sox, Milwaukee Brewers, St. Louis Cardinals, Kansas City Royals, Cincinnati Reds, Cleveland Indians, Minnesota Twins, Atlanta Braves, Detroit Tigers
---
This plan is contingent on medical expert approval and widespread availability of COVID-19 testing to the public; therefore, players would not need to quarantine and could still play at home ballparks, albeit against nearby teams to reduce travel.
Nightengale writes that officials cautioned it is "too early to expound on the details, with new ideas floated each week." It is not known whether teams would open the season in neutral sites before being allowed to return to their home ballparks.
RELATED | Phillies Employees Participate in COVID-19 Antibody Study
"Yet, they could squeeze in 100 to 110 games, and perhaps even have several thousand fans in attendance before or during the playoffs," he continues.
Playing without fans would require an adjustment, both for those on and off the field. According to Nightengale, MLB and union officials have yet to discuss "financial ramifications of playing without fans."
Phillies manager Joe Girardi recently said on MLB Network that if baseball were to resume, we would see a shortened, second stint of spring training.
"It's going to be short like it was, I believe, in 1995 when we came back; it was shorter," Girardi says. "That was a good thing about having those four-plus weeks. I think that when we were there I got a pretty good idea who was going to be on our team."
Any baseball would certainly be a plus for Phillies fans; while not being in the stands at Citizens Bank Park would be an adjustment, the possibility of returning to the stands in the fall for a potential first postseason run since 2011 would surely be an unforgettable event.