Phillies: Should Adam Haseley start opening day in center field?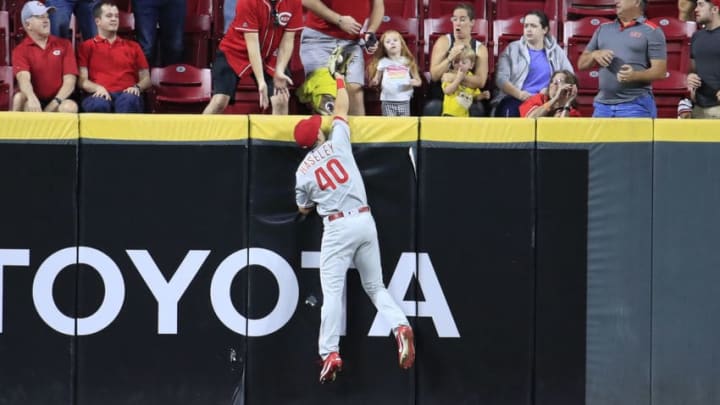 CINCINNATI, OHIO - SEPTEMBER 04: Adam Haseley #40 of the Philadelphia Phillies reaches up above the outfield wall to catch the ball hit by the Freddy Galvis #3 of the Cincinnati Reds at Great American Ball Park on September 04, 2019 in Cincinnati, Ohio. (Photo by Andy Lyons/Getty Images) /
The Phillies 2017 first round pick is making a case to start on opening day next year.
Despite being taken with the eighth overall pick in 2017, Adam Haseley has never been a very highly-touted prospect for the Phillies, let alone in all of baseball.
After being drafted MLB Pipeline ranked Haseley as the game's 88th best prospect, but he's never appeared in their top 100 rankings since.
Called up in 2019 out of necessity, Haseley has worked his way into the Phillies starting center field job, and has a chance to hold onto it going into next year.
Over his last 10 games Haseley is hitting .375 with five multi-hit games and six strikeouts. He's held his own in center field and made a spectacular, nonchalant catch over the center field wall in Cincinnati.
The everyday playing time has certainly helped Haseley after he was bounced around a bit early in the season. He's coming into his own at the big league level, something the Phillies haven't seen a lot of from their young players outside of Scott Kingery and Rhys Hoskins.
But have Haseley's 46 major league games been enough for the Phillies to lean on him going into 2020 where the pressure to win will be as strong as ever?
Philadelphia has a lot of questions with their outfielders going into the 2019-20 offseason, starting with former All-Star Odubel Herrera. The once-promising, electric outfielder was suspended after an incident involving his girlfriend in Atlantic City that's sidelined him since May 26.
The Phillies completely voided themselves of Herrera's presence, taking down banners at the stadium and pulling nearly all of his merchandise from their online store. There's still the 21.2 million question with Herrera with his contract guaranteeing him money through 2021 with two club options.
At this point, it's very likely the Phillies will cut bait with Herrera and start fresh, which is in some ways a blessing for the team, though the nature of the events leading up to this are far from a blessing.
Assuming Herrera is gone, the Phillies will have to answer the Corey Dickerson question that's picked up steam in recent weeks. General manager Matt Klentak's quiet trade deadline addition of Dickerson has helped keep the Phillies in the wild card hunt thanks to the outfielder's .305 batting average in 27 games since the trade.
Dickerson has always been a consistent hitter with a career average of .286, and he's currently on pace for his fourth .300 season in seven years between the Phillies, Rockies, Rays, and Pirates. At 30-years-old he likely won't be an expensive free agent this offseason, but the pending return of Andrew McCutchen would take a spot away from Dickerson in left field.
LOS ANGELES, CA – MAY 31: Philadelphia Phillies outfielder Andrew McCutchen (22) looks on during a MLB game between the Philadelphia Phillies and the Los Angeles Dodgers on May 31, 2019 at Dodger Stadium in Los Angeles, CA. (Photo by Brian Rothmuller/Icon Sportswire via Getty Images) /
McCutchen was a major piece to the Phillies hot start both on and off the field, and since his ACL injury on June 3 the Phillies are 39-41 after starting six games over .500.
McCutchen played 15 games this year in center field, but he'll be a 33-year-old coming off a major knee injury next year. Dickerson has played all 26 of his Phillies games in left field, and has started only 23 games in center in his seven year career.
Jay Bruce is also under contract for next year, but he was brought in to provide thump off the bench and occasionally play in left field.
Scott Kingery has filled in as the starting center fielder, but he projects to start next season at either second or third base.
Haseley appears to be on the only internal option for next year unless the Phillies re-sign Dickerson or make another move. Haseley has the pedigree as a first round pick coming out of college and has certainly earned playing time this year. He's held down the fort after Roman Quinn, Nick Williams, Herrera, failed to do so, whether it be due to injuries, lack of performance, or off the field issues.
More from Phillies News
The only free agent who'd be an upgrade in center field is another player with connections to the Pirates who I would have traded for at the deadline, Starling Marte. Pittsburgh has an $11.5 million club option on Marte, so he might not even be available this offseason.
Mickey Moniak, the first overall pick in 2016, is not a major league option yet after hitting .252 for Reading this year. Moniak has made strides, picking up 52 extra-base hits, and is just 21-years-old, but he's not a major league player yet, though he and Haseley could clash someday.
Prospects Simon Muzziotti, Jhaylin Ortiz, and Cornelius Randolph (the 10th overall pick in 2015) are nowhere near ready to be in the big leagues.
The fans appear fine with giving Haseley the keys to center field going into next year.
At this point, Haseley is the Phillies best option to start in center field next year, and it might be worth it for the organization to give him a shot at the job. Haseley can compete with Quinn in spring training for the job, but it's his turn to prove the doubters wrong.
With an offseason with the big league programs and the experience from this year, Haseley has a lot to build on going into 2020. Given his potential as a first round pick, the Phillies should at least give him a shot to win the job.