Phillies to host 2026 All-Star Game around USA's 250th birthday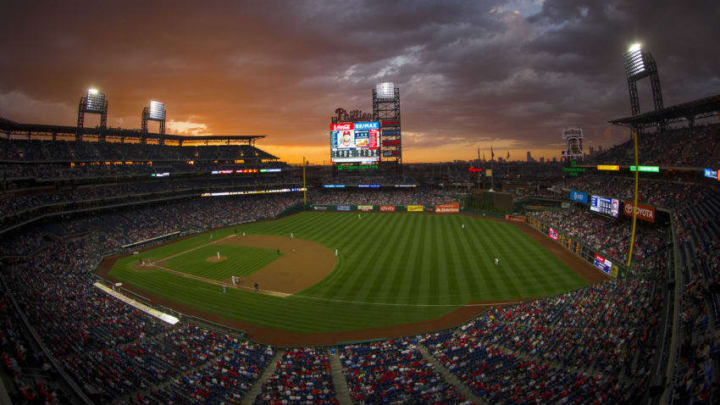 A general view of Citizens Bank Park (Photo by Mitchell Leff/Getty Images) /
In commemoration of the United States of America's 250th birthday, the Phillies will host the 2026 MLB All-Star Game, an exciting prospect.
Matt Breen of the Philadelphia Inquirer reported Thursday afternoon that the Phillies would host the 2026 All-Star Game. MLB and the team will announce the game at a press conference in front of Philadelphia City Hall on Tuesday according to Breen.
The game coincides with the 250th anniversary of the signing of the Declaration of Independence, the nation's birthday if you will. Since the All-Star Game usually falls just after the Fourth of July, it will likely be part of a larger celebration around that time in the city.
Bob Nightengale of USA Today tweeted that the team would host the 2021 game, but later doubled back and said Los Angeles and Cleveland would hold the next two.
More from That Balls Outta Here
Philadelphia has not hosted an MLB All-Star Game since 1996, meaning it will be a full 30 years between All-Star Games in the city. Philadelphia hosted the NBA All-Star Game last in 2002 (when Wells Fargo Center was the First Union Center), and the last NHL All-Star Game in the city was in 1992 at The Spectrum.
It's anyone's guess who the team's All-Stars would be by the time this game rolls around. Bryce Harper and Scott Kingery are the only players on the roster who will be under team control until then. Harper will be 33 in 2026, so it's anyone's guess the kind of player he will be at that time. Kingery has shown no indications that he is any sort of All-Star.
The team could be entirely different by the time this game comes around. Not only will it be impossible to know who will be the All-Star, but it's also anyone's best guess as to how good the team is. It will be an entirely new crop of players running the league by that time. Just think about who was in the league and an All-Star in 2012; it's the same amount of time from then to now as it is from now to 2026 when the game will be held.
When the time comes around to actually host the game, it will put Philadelphia at the center of the league's attention during what will be an exciting year for the city.