Phillies: 2019 season predictions and fun pop bets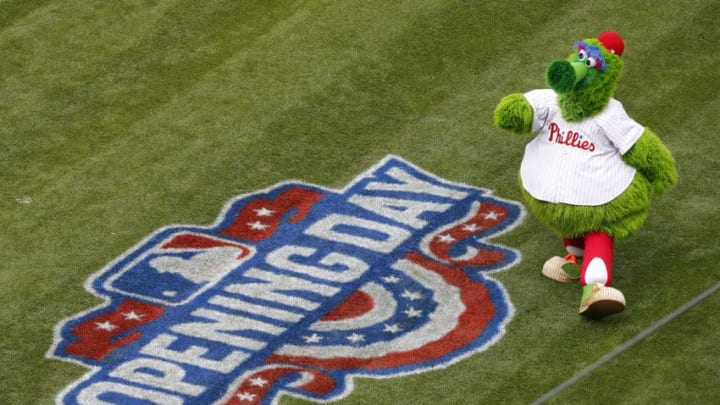 PHILADELPHIA, PA - APRIL 07: The Phillie Phanatic performs before an opening day game between the Philadelphia Phillies the Washington Nationals at Citizens Bank Park on April 7, 2017 in Philadelphia, Pennsylvania. (Photo by Rich Schultz/Getty Images) /
CLEARWATER, FL – MARCH 09: Bryce Harper (3) of the Phillies is all smiles as he congratulates Rhys Hoskins (17) on his homerun during the spring training game between the Toronto Blue Jays and the Philadelphia Phillies on March 09, 2019 at the Spectrum Field in Clearwater, Florida. (Photo by Cliff Welch/Icon Sportswire via Getty Images) /
Will the Phillies win the National League East
George (No): I've gone back and forth on this more than I thought, but ultimately I think the Phillies will make the playoffs but not clinch the division title.
The National League East is arguably the hardest division in baseball after the Nationals, Braves, and Mets all improved. Even without Harper, I think the Nationals can be a tough team with Max Scherzer, Stephen Strasburg, and Patrick Corbin leading the rotation. Juan Soto and Victor Robles are a young dynamic duo in the outfield that should replace Harper's production.
Thankfully the Phillies should pick up 12-15 wins against the Marlins in their 19 games this year, but the rest of the East will be a tough fight 'til the end.
Like I said earlier the National League East will play out similarly to the American League East in 2019 and have a lot of very good teams at the top. The final road series of the year is a four-game bout in Washington, and I think that will essentially be a playoff series.
Although, finishing the year with three games at home versus Miami won't hurt the playoff chances.
More from That Balls Outta Here
John (Yes): I do think the Phillies will be able to win the NL East. By no means will it be by a wide margin, but there's no reason to be pessimistic about their chances.
The Braves obviously get some credit as the reigning division champs, but it was borderline handed to them by the Phillies last year. Their pitching staff is a major question mark, and a bad pitching staff can doom a team quickly.
The Marlins…are the Marlins. Next.
The Mets made some flashy moves during the offseason, but they were the only team in the division who didn't trade away every asset they had to finish with a worse record than Philadelphia.
They may have made strides, but they aren't quite fearsome division contenders yet.
The Nationals are the team I am most worried about, but they showed last year they are vulnerable. They have been the most common pick to win the division, but they were last year too before stumbling up until the end of the season.
While this division will be competitive, I think the Phillies have enough to get over the hump and win it for the first time in eight years.
Enjoy what should be a fun season of Phillies baseball and remember to follow TBOH on Facebook and Twitter for stories, updates, and reactions all season long!