Phillies could soon employ nine-man bullpen with new rules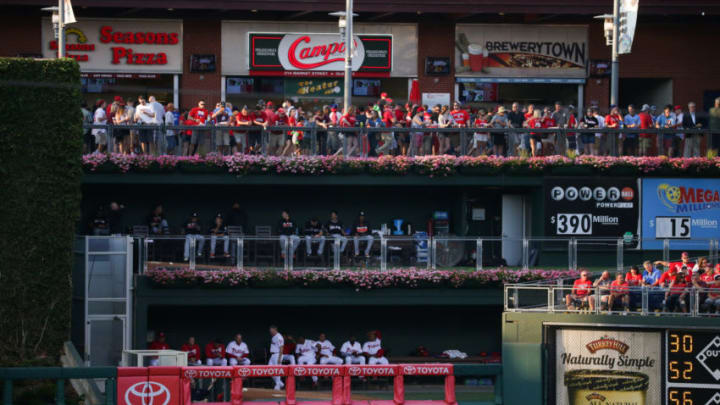 A view of the bullpens and fans at Citizens Bank Park (Photo by Hunter Martin/Getty Images) /
An additional roster spot will be available for MLB teams in 2020, which the Phillies could use to make a nine-man bullpen next year.
Major League Baseball announced a series of rule changes for the next two years on Thursday that will impact the Phillies and other teams. Changes for this year include eliminating the waiver trade period, cutting mound visits from six to five, and shortening inning breaks. Changes for 2020 will have a far bigger impact on how teams construct their roster.
Starting next year, teams will be able to carry 26 players on their active roster instead of 25, with a 27th player allowed for doubleheaders. Conversely, teams will only be able to expand their roster to 28 players in September instead of the full 40-man active roster as in previous years.
Further impacting the roster will be the implementation of a cap on how many pitchers can be on the active roster at one time. That will be determined by a joint MLB and MLBPA committee.
More from That Balls Outta Here
Depending on what the committee decides, Philadelphia could carry a nine-man bullpen next season. The possibility was tossed around last year, but that would require only having three players on the bench. With another active roster spot, they would be able to add an extra reliever and keep the four-man bench they already are using. Again, that will depend if the committee caps the number of pitchers on a roster at 13 or 14.
While using a nine-man bullpen just sounds like a way to slow the game down even further, that will be counteracted by a new three-batter minimum for pitchers. This rule comes to halt managers (like Gabe Kapler) who burn through their bullpen late in games.
This is cited as a large reason for the slow pace of play. The only exceptions to this rule would be at the end of an inning or an injury.
Also impacting how the team constructs their roster will be the league increasing the time a pitcher must stay on the injured list or in the minors after an option from 10 days to 15 days. The increase in time after an option is likely to close the loophole teams used to send a starter with options to the minors then call them up for a doubleheader as the 26th man like Philadelphia did with Zach Eflin last year.
Finally, the league stated they and the player's union will begin talks early about adjusting the collective bargaining agreement, which has come under fire after the last two offseasons.