Phillies manager candidate: Twins hitting coach James Rowson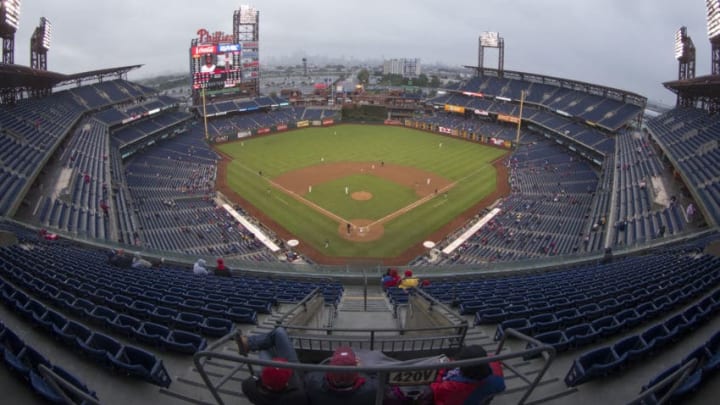 PHILADELPHIA, PA - OCTOBER 3: A general view of the game between the Miami Marlins and Philadelphia Phillies on October 3, 2015 at Citizens Bank Park in Philadelphia, Pennsylvania. The Marlins defeated the Phillies 7-6. (Photo by Mitchell Leff/Getty Images) /
In their search for a new manager, the Phillies should  consider Twins hitting coach James Rowson for the position.
While the Twins lost 8-4 in the Wild Card play-in game Tuesday night against the New York Yankees, what they have accomplished this season has been nothing short of remarkable.
Just one season removed from losing 103 games, the team finished 85-77 in 2017, and put up three runs in the first inning against Luis Severino, who arguably was the third best pitcher in the American League this season.
This offensive output was not an outlier, as the team finished seventh in runs, 10th in hits, sixth in RBI and ninth in batting average in 2017. Much of this success has to be attributed to first year hitting coach James Rowson, who helped turn an anemic offense into one of the most feared in the league.
More from Phillies News
Rowson was hired by the Twins in the offseason with little experience as a Major League hitting coach.
Rowson spent seven seasons as the Yankees minor-league hitting coach, as well as minor-league hitting coach for the Los Angeles Angels, and a year and a half stint as the Cubs hitting coach starting in 2012.
Rowson in his playing days was a career minor-leaguer with the Seattle Mariners and New York Yankee organizations.
During three seasons in the minors, he batted just .204 for his career, with nine home runs, and 60 RBI.
Despite below average numbers in the Minors as a player, Rowson has developed a relationship with is young players, and have been able to bring the best out of them at the Big League level this year.
The 3-7 hitters in the Twins lineup last night were SS Jorge Polanco, LF Eddie Rosario, 3B Eduardo Escobar, RF Max Kepler, and CF Byron Buxton.
The oldest players on this list are Escobar and Grossman, both at age 28; with the next oldest being Rosario at 26. All have had career years this season, and have shown flashes of All-Star potential.
This ability to relate to young players, and the ability bring the full potential out of young athletes, makes him an ideal candidate for the Phillies.
With Rhys Hoskins, Jorge Alfaro, Nick Williams, Maikel Franco, Aaron Altherr and Odubel Herrera all 26 or younger, the age group of core players is the same as in Minnesota. With the core the team has in place, a manager who can relate to a younger generation,  and help them develop, is what this team needs.
More from That Balls Outta Here
A reason for the connection between Rowson and his players is the fact he is willing to hear their input, and is open to them questioning his instructions if they feel it is justified: [quote via Stephanie Apstein of Sports Illustrated]
""I wanted to see who would ask me why…One thing I tell players all the time is if I ask you to do something and I can't tell you why, you shouldn't [do] it.""
This is an effective approach for a younger player as it makes them further evaluate everything they are told, rather than blindly following instructions.
Through this, the player is able to further understand what exactly they are being instructed to do, and why it is necessary. One of the biggest challenges for any coach is to break through to their players, find a way to relate to them despite an age difference, and get the most out of them.
Based off of the turn around the Twins have had this season, Manager Paul Molitor will receive some Manager of the Year votes.
Next: Phillies 2017 season grade: 3B Maikel Franco
While these votes are justified, the Phillies would be wise to look deeper into the numbers, and look at James Rowson as a top candidate for their manager job.