Phillies second-worst hitter, Ty Kelly, helps them win second-most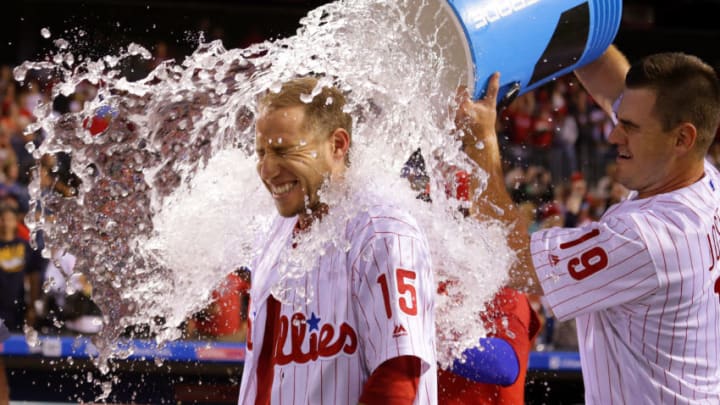 PHILADELPHIA, PA - JULY 29: Ty Kelly #15 of the Philadelphia Phillies is doused with water by Tommy Joseph #19 after hitting a game winning walk-off RBI single in the 11th inning during a game against the Atlanta Braves at Citizens Bank Park on July 29, 2017 in Philadelphia, Pennsylvania. The Phillies won 4-3 in 11 innings. (Photo by Hunter Martin/Getty Images) /
Ty Kelly doesn't hit often, but when he does, he helps the Phillies win nearly every time. This year he has been the team's best hitter in the clutch.
When the Phillies sent cash to the Blue Jays for Ty Kelly, it was considered a minor move. Philadelphia is Kelly's sixth organization in Kelly's nine-year professional career and he didn't reach the majors until last year after being drafted in 2009. He joined the team as a utility infielder but that's about all he's provided.
As a Phillie, Kelly has a .186/.256/.310 line with just 13 hits and seven walks in 85 plate appearances. He has been a below-replacement player with -0.2 fWAR and a well below-average 47 wRC+. That wRC+ is the second-worst among the team's hitters, ahead of only Andres Blanco.
Despite his terrible numbers, Kelly has excelled in one statistic: Win Probability Added. Aaron Altherr leads the team in overall WPA at 1.14. Kelly is second on the team at 0.61. Kelly is the best on the team in Fangraphs' clutch statistic at 0.76.
More from Phillies News
In high-leverage situations this season, Kelly has a .385 batting average with two doubles and five runs batted in. Meanwhile, he is hitting just .091 in low-leverage situations and .200 in medium-leverage situations. As a pinch hitter, Kelly has four doubles and three RBI.
Out of Kelly's 13 hits this season, five gave Philadelphia a lead in a game. The most recent of those go-ahead hits was a walk-off hit Saturday night against the Braves.
Kelly laced a walk-off single in the 11th inning after entering the game in a double switch. Another of his go-ahead hits was a pinch-hit double against the Red Sox that helped the Phils steal a game from Chris Sale, one of the best pitchers in baseball this year.
Next: Phillies trade Joaquin Benoit, cash to Pirates
Kelly's several hits in the clutch have earned him the nickname, "Tybreaker" from fans, teammates, and even manager Pete Mackanin. The pun made the reporters at Saturday night's press conference groan, but so far this season, it has been an astute nickname.