Philadelphia Phillies: Interview with Jay Floyd of PhoulBallz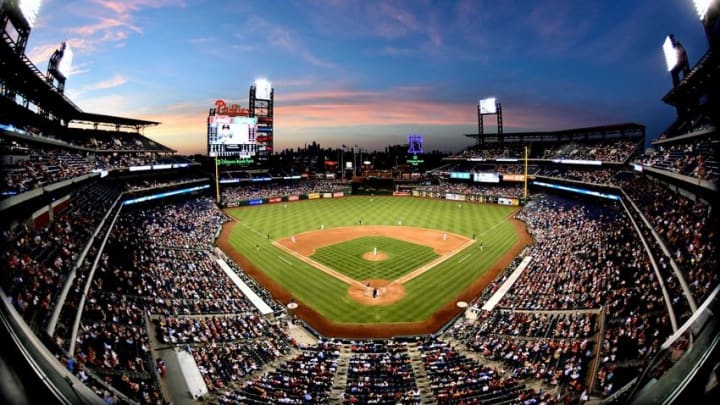 Jul 5, 2016; Philadelphia, PA, USA; A general view of Citizens Bank Park during game between Atlanta Braves and Philadelphia Phillies. The Phillies defeated the Braves, 5-1. Mandatory Credit: Eric Hartline-USA TODAY Sports /
That Ball's Outta Here editor George Stockburger talked with Jay Floyd of PhoulBallz.com about the future of the Phillies, and which prospects we should watch for.
Is there a prospect in the Phillies organization people should be talking about more, or have not heard about that could make an impact on a championship team in the next 10 years.
I think Nick Pivetta- righty pitcher, reached Triple-A last year, obtained for Jonathan Papelbon the year prior- is a guy in the higher levels that deserves more attention.  With an ability to dominate, he's a guy that could develop into a key contributor and make a difference at the top-level.  Think Ryan Madson as far as tools go, though the Phillies have been using him as a starter.
A guy at the lower levels that I am rather surprised more people aren't excited about is outfielder Jose Pujols.  He set the team record for home runs with Class A Lakewood last season.  The 21-year-old righty slugger struck out a ton (179 times in 549 plate appearances) with the BlueClaws, so he has plenty to work on, but that raw, explosive power is something that Phils fans should love to see as he climbs toward higher levels.
What will become of Tyler Goeddel after the Phillies decided to hold onto him all season after the Rule 5 Draft?
Look for Goeddel to open next season in the minors.  He needs more time to mature and develop.  With so many other talented outfielders on the way up and the likelihood that the Phillies invest in some free agents eventually, I don't see Goeddel having a future as a regular in the Phillies' outfield, but he could surprise me.
What is Cornelius Randolph's standing in the organization? Injuries and inconsistent play have seem to cause people to forget about him and looks to have slid down the prospect totem pole.
Randolph's a highly valued commodity to the organization.  He was the 10th overall pick in the 2015 draft and he signed for over $3 million.  He opened last season as an 18-year-old in full-season Class A and posted a .274/.355/.357 slash line in a league where many college juniors are lucky if they make it to that level after they're drafted in June. Anyone that has forgotten about him may need to get examined by a specialist.
Will Scott Kingery be the Phillies second baseman on Opening Day, 2018? Why, why not?
No.  It may take a bit longer for Kingery to take over a starting role, but that role will be his not long after.  Push that date back one year and I'd be more likely to say yes.  He's a very skilled ball player that Philadelphia fans are going to love.  He could be the next balls-out, super intelligent player who fills the void that fans are missing at that position.
More from Phillies News
What are the chances Mark Appel becomes a piece of the Phillies core going forward?
I don't anticipate Appel settling into a role that would be considered among the core of a Phillies club.  That's a statement I would like to have to have someone through in my face someday after Appel does something huge, but he needs to develop consistency and get healthy first.
How much of concern is there regarding the lack of left-handed pitching in the organization?
I don't think a team with the deep pockets that the Phillies have should be concerned about a lack of depth at any position.  When the time comes, the Phils will be able to fill any spot with their check book.  For anyone worried about that, though, pitching prospect Elniery Garcia, who made his Double-A debut in last year's Eastern League playoffs, should be a name primed to land on those fans' radar this year.
How good can Franklyn Kilome be, and when could we see him in the majors?
Consistency will be the key for Kilome.  He's got a tall, projectable frame, he works hard behind the scenes and he's already got a high-90's (touching triple digits at times) fastball that makes opponents look overwhelmed and a strong curve ball.  As far as his ceiling, he could become a guy that anchors a rotation, but there is a lot of progress that needs to take place first.
Philadelphia's starting rotation in five years will be…?
More from That Balls Outta Here
Selecting just internal names, because trades and signings aren't easy to predict, I will go with Jake Thompson, Vince Velasquez, Franklyn Kilome, Elniery Garcia and Aaron Nola.  Jerad Eickhoff could easily stick around, as he's proven to be a valuable starter as well.  I see Thompson as a front line guy who can captain a starting staff.  He is a bull that doesn't let failure get to him.  What Phils fans saw from Thompson (3-6, 5.70 ERA) in the big leagues last year, isn't close to what they can expect from him as he matures and irons things out.
Is Nick Williams finally the replacement for Jayson Werth, or are his struggles going to deter him at the next level?
I haven't seen any true struggles from Nick Williams.  He's going to be a big league All-Star.  Mark that down right now.  Remember I said it.
When I talked to family members at the holidays, a couple of them said things about how they missed the core that the Phillies lost.  The Chooches, the Jimmy's, the Utley's.  If I'm looking for names that will help Phils fans get over that lost core, among the top names that will be able to do that is Nick Williams.  Big time power with an ability to hit for average and some very good defensive skills…this is one of the team's premiere prospects.
Is Dylan Cozens simply the next Darin Ruf based on their home run production in a hitter friendly ballpark in Reading?
To me, it's not suitable to proclaim Cozens the next Ruf, because Cozens had the success he enjoyed at Reading about four years earlier, age wise, than Ruf did.  Cozens was impressive, mashing 40 homers and winning a league MVP for Reading this year, but he has a lot of work to do with his pitch recognition, as he struck out at a hefty rate (186 K's in 586 plate appearances).  Time at Triple-A will be telling for Cozens, as we'll see how he fares against older, more experienced pitchers.
Mar 13, 2016; Tampa, FL, USA; Philadelphia Phillies shortstop Freddy Galvis (13) celebrates with second baseman Cesar Hernandez (16) after scoring during the second inning against the New York Yankees at George M. Steinbrenner Field. Mandatory Credit: Kim Klement-USA TODAY Sports /
What will Freddy Galvis and Cesar Hernandez' roles be after 2017?
I think both could be valuable trade chips.  One slammed 20+ homers, the other batted .290+…both of those things are highly appealing from middle infielders, so if one or both of those guys can repeat that in 2017, that could ease the transition to the future.  Top prospect J.P. Crawford at shortstop and the aforementioned Scott Kingery at second base could easily take over big league roles if their paths are clear following some trade action.
What is Moniak's ceiling, and when should we expect to see him?
Fresh out of high school six months ago, Moniak is probably four years away at best.  He's viewed by the Phillies as a guy that could become the face of the franchise and they look for him to develop into an elite level hitter in the future.  He's got plenty of talent and a good head on his shoulders.  It will be fun to watch him develop in the minors over the next handful of years.
Next: Phillies: Making a Case for Future Hall of Famers
Follow Jay Floyd on Twitter @PhoulBallz