Phillies Prospect Spotlight: First Baseman Rhys Hoskins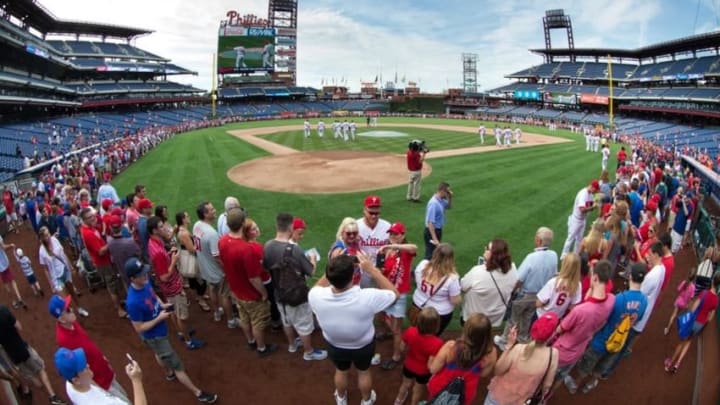 Jul 16, 2016; Philadelphia, PA, USA; Fans line the playing field at Citizens Bank Park for the Philadelphia Phillies picture day with the players prior to game against the New York Mets. Mandatory Credit: Bill Streicher-USA TODAY Sports /
An amazing season at Double-A Reading puts Phillies prospect Rhys Hoskins on the fast track to the majors. There are plenty of signs that the first baseman can succeed.
Phillies first base prospect Rhys Hoskins spent 2016 in the shadow of Dylan Cozens's monster season at Reading. Oddly enough, despite Cozens hitting more home runs, I am more encouraged by Hoskins than I am Cozens.
The Phillies select Hoskins in the fifth round of the 2014 draft out of Sacramaneto State. He went into short-season Williamsport and hit nine home runs in 70 games. While he showed power, his batting average of .237 indicated a need for improving his contact.
Hoskins did just that in 2015. Between Low-A Lakewood and High-A Clearwater, Hoskins carried a .319/.395/.518 line with 17 home runs. With little defensive value as a first baseman, Hoskins needed to hit more compared to 2014, and he did.
Like most players, Hoskins's bat really came alive once he got to Double-A Reading. He hit 38 home runs in 135 games, coming in second in the Eastern League behind his teammate Cozens. Thanks to their astounding seasons, Hoskins and Cozens recieved the Paul Owens award, given to the best players in the Phillies' minor-league system.
More from Phillies Prospects
With great seasons come equally great expectations for prospects. After seeing Hoskins hit 38 home runs, fans expect to see that power when he comes to the majors. Thankfully, there are indicators that Hoskins's plus raw power will translate to the major-leagues.
For starters, Hoskins knows how to work the count and get on base. His walk rate increased every year as he climbed the ladder through the farm system.
This year Hoskins walked in 12.1% of his 589 plate appearances. In addition, Hoskins kept his strikeout at a workable level at 21.2%.
Since Hoskins has such patience at the plate, he forces pitchers to pitch in the strike zone. He takes advantage of this, as Matt Winkleman of Phillies Minor Thoughts says Hoskins has "solid bat speed and feel for contact." Hoskins should maintain his hit tool the rest of the way through the minors and take advantage of pitches in the strike zone.
More from That Balls Outta Here
What's encouraging about Hoskins's power in-game is that it exists outside of Reading's launching pad. This year, Hoskins managed 13 home runs on the road, which would put him on pace for 26 home runs for a full season. That alone is remarkable, and should translate to double-digit home runs in the majors.
Hoskins also shows the ability to hit against both lefties and righties. Hoskins hit for a .282 average against righties and a .277 average against lefties. He expectedly hit for more power against lefties, but he overall remained consistent.
However, first-base prospects are volatile, and if they can't hit, they don't have much value. That is especially true for Hoskins as a right-handed hitter. Triple-A Lehigh Valley's Coca-Cola Park is no friend to hitters, and Hoskins's power numbers will likely go down. He will still need to show at least some power at the next level, and especially when he comes to the major-leagues.
A major-league appearance is likely in 2017 as Hoskins is Rule 5 eligible after 2017. Barring some severe collapse, the Phillies should protect their first-base prospect.
Next: The Phillies Won't Contend in 2017 and That's Okay
Hoskins has to hit to reach the majors, but he has done just that in the last two seasons. Hopefully that trend continues even as he reaches Triple-A. There are multiple signs that Hoskins should succeed in the majors, but we will never truly know until he actually reaches the big-leagues.