2017 Phillies Free Agency: Who's on First?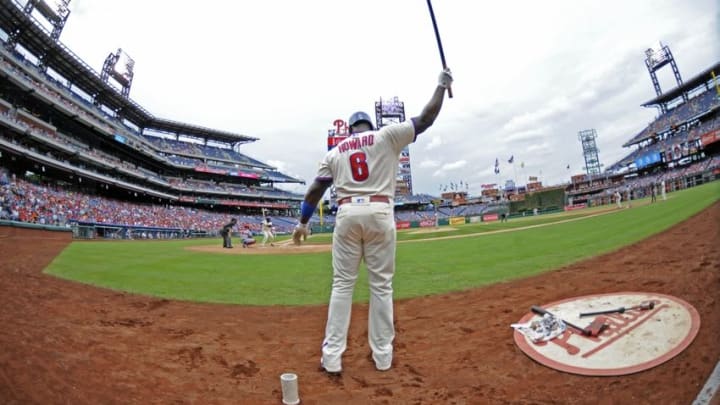 Aug 21, 2016; Philadelphia, PA, USA; Philadelphia Phillies first baseman Ryan Howard (6) on deck against the St. Louis Cardinals at Citizens Bank Park. Mandatory Credit: Eric Hartline-USA TODAY Sports /
With the emergence of Tommy Joseph and the end of Ryan Howard's contract upon them it's time for the Phillies to think about who will back up Joseph next year at first base.
The Phillies need someone who can provide veteran leadership to their extremely young team. Someone the young guys can look to when times get tough, and know that the player has been there before.
They'll also need a left-handed hitter because ideally you'd want a platoon player sitting on the bench as not only the back up to Joseph, but someone who can pinch hit in the right situation.
Most likely you'd want that player to have some pop as well. It's wise to at least have the illusion that your left-handed bat off the bench could score you a few quick runs with one swing of the bat.
So they'll need a left-handed veteran who carries the realistic threat of a home run at any time.
After searching the free agent lists and considering all the options there seems to be one player that could fill all these roles.
Like Ryan Howard, this guy is a veteran who has had his ups and downs individually and in team situations. He's won a World Series and he's also been on a team with the worst record in baseball.
Jun 22, 2015; Bronx, NY, USA; Philadelphia Phillies third baseman Maikel Franco (7) celebrates with first baseman Ryan Howard (6) after hitting a solo home run against the New York Yankees during the first inning at Yankee Stadium. Mandatory Credit: Brad Penner-USA TODAY Sports /
And he also has that necessary power potential, probably more so than any other free agent. He could back up Joseph, platoon when necessary, DH if need be, and pinch hit.
Up until recently, this player was a starter but his position was taken by a younger player. Quite frankly this veteran was not producing a whole lot. His team demoted him and has been using him for spot starts and off the bench and he's responded quite nicely.
Since his demotion earlier this year the player is hitting .269/.309/.915 with 10 HRs. He's averaging a home run once in every 10.4 at bats. For perspective, that would put him first in all of MLB, ahead of Edwin Encarnacion who is averaging one in every 13.2 at bats.
Over the last 28 days he's hit .a whopping .386/.413/.818 for an astonishing OPS of 1.231. It's not a huge sample size, but it's not small either.
Over the last 28 days he's hit .a whopping .386/.413/.818 for an astonishing OPS of 1.231
It seems that this once regular player has found a productive role as platoon bench player, getting plenty of rest and limiting his at bats to only against right-handed pitching. Perhaps even the demotion and newly-found competition is invigorating him, who can tell?
His revitalized success is probably most due to his only being used against righties though. For his career he has hit 285 of his career 376 home runs against righties, and he carries a slash line of .278/.367/..561 for an OPS of .928.
Previously however, his salary dictated that he play every day, a problem that can be alleviated should the Phils bring him in. They surely wouldn't extend a massive payday but instead a deal more fitting an aging veteran who's going to play part-time.
So, who is this amazing option to fill Ryan Howard's void? Well, it's Ryan Howard.
WAIT. Don't click to another page or close the tab or whatever. Think about it. Think openly about it.
What has been most fans gripe regarding Howard for the past five years? His pay, his inability to hit left-handed pitching, and the lack of production in those situations?
What if he was paid commensurate with his role? Would it still be a problem? What if he was paid a million or two a year? That would be a steal for the production he's put up since he's been in his current role, even if it was for a full season.
More from Phillies News
They could go outside the organization, but who could they get who fills all those specific categories? Brandon Moss fits the bill, but he probably wouldn't take a one year deal on a rebuilding team. He's currently excelling in a one year pact with the Cardinals where he makes $8.25M.
Mark Texiera would be an option if he hadn't already announced his retirement. Left handed, power hitting veterans willing to accept a one year deal in a non-competitive situation don't grow on trees.
Whether you want to admit to it or not, the Phillies are going to need someone like Howard and they should look at what he's done in his current role.
Take a look at how he finishes the season, and seriously consider if the guy to best fill that current role isn't Howard himself.