Phillies Pen Blows Opening Day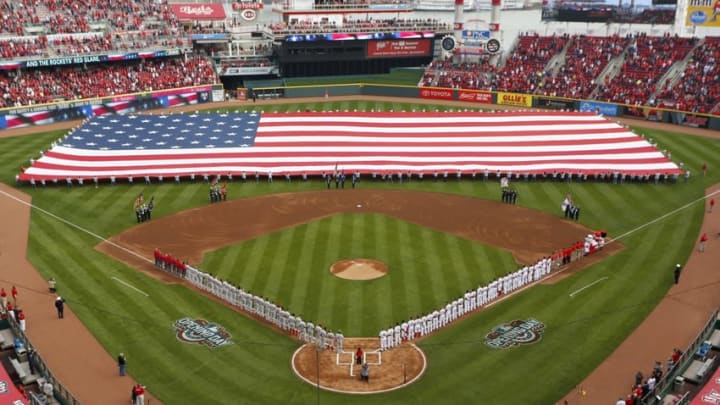 Apr 4, 2016; Cincinnati, OH, USA; General view during the national anthem as the Philadelphia Phillies and the Cincinnati Reds line up on the field during Opening Day ceremonies at Great American Ball Park. Mandatory Credit: David Kohl-USA TODAY Sports /
The Philadelphia Phillies opened the 2016 season this afternoon with a loss to the Cincinnati Reds.
Riding a fantastic first-ever regular season start in a Phillies uniform by former American League Rookie of the Year Jeremy Hellickson, the Phils took a 2-1 lead into the bottom of the 8th. But the bullpen collapsed in that frame, leading to a 5-run inning and a 6-2 victory for the hosts.
The outcome, which took a tidy 2 hours and 56 minutes to complete, finished up in front of a crowd that had noticeably thinned out from the 43,683 who showed up at the beginning for Opening Day at Great American Ballpark in Cincinnati on a day that grew colder as it went along.
More from That Balls Outta Here
"The wheels kinda fell off in that 8th inning," said manager Pete Mackanin in his postgame press conference. "That's been our thing that we're concerned about is that 8th and 9th inning, and it came to fruition today. So we'll just have to keep mixing, see what we've got, and go from there."
Hellickson was outstanding over six innings, needing just 79 pitches to get through the outing. He allowed just three hits, all to Reds' shortstop Zack Cozart, and just one unearned run.
That unearned run came in the bottom of the 1st inning. After Cozart led off the inning by slashing a double to right field, Eugenio Suarez followed with an easy grounder to Phillies' shortstop Freddy Galvis. Galvis' throw was a bit awkward and low, but certainly should have been handled by Ryan Howard at 1st base. Howard simply dropped the ball as Cozart raced him, putting Cincinnati out on top by 1-0 early on.
Galvis got that one back and more when with two outs in the top of the 2nd he drove a pitch from Reds' starter Raisel Iglesias out to right field. The ball carried just over Jay Bruce's glove and into the stands for a 2-run homer, putting the Phillies on top by a 2-1 score.
Apr 4, 2016; Cincinnati, OH, USA; Philadelphia Phillies starting pitcher Hellickson throws against the Cincinnati Reds during the first inning at Great American Ball Park. Mandatory Credit: David Kohl-USA TODAY Sports /
Hellickson then took over, cruising through six frames by mixing up his pitches, locations, and speeds. He worked consistently from 88-90 mph on his fastball, never dominating, but instead keeping the Reds' hitters off-balanced and constantly guessing.
The Phils had a number of chances to score outside that one Galvis bomb, but wasted the opportunities. Cesar Hernandez led off the season in the top of the 1st inning with a ground rule double over the head of Billy Hamilton to start the game, but was left stranded.
Hernandez then rapped a clean single to left to lead off the top of the 3rd, then moved to 2nd base on a one-out single off the bat of Maikel Franco. But veterans Ryan Howard and Carlos Ruiz stranded those runners.
Hellickson helped himself by singling to lead off the top of the 5th, but Odubel Herrera hit into a force, and Franco struck out. The Phillies would get only one more baserunner, on a one-out walk by Herrera in the top of the 8th inning.
Jeanmar Gomez came out of the bullpen in relief of Hellickson, cruising through an easy bottom of the 7th inning. Then in the bottom of the 8th, Mackanin went to David Hernandez, who was signed this off-season to pitch in just such high-leverage late inning situations.
Apr 4, 2016; Cincinnati, OH, USA; Cincinnati Reds first baseman Votto (19) hits a two-run single during the eighth inning against the Philadelphia Phillies at Great American Ball Park. Philadelphia Phillies catcher Ruiz watches at right. The Reds won 6-2. Mandatory Credit: David Kohl-USA TODAY Sports /
Hernandez failed miserably in his first regular season Phillies appearance. He walked the leadoff man, which hurt doubly when the next batter, pinch-hitter Scott Schebler, hit a ground rule double. With runners now at 2nd and 3rd, Hernandez walked Hamilton to load the bases with speedy runners and nobody out.
Mackanin had seen enough, and made a move to James Russell. The lefty got Cozart to fly to right, with the tying run scoring on the play. But then Russell got in on the free pass action, walking Suarez to again load the sacks with Reds runners. Joey Votto, handcuffed at 0-3 with three strikeouts to that point, then stepped in and did what all-stars do, drilling a 2-run single to center field that put Cincy up 4-2.
That was it for Russell, who gave way to Hector Neris, who promptly hit Brandon Phillips to again load the bases. When Jay Bruce followed with a 2-run single, the home club had blown things open, batting around for five runs in the frame.
The Reds then flashed some leather at the Phillies in the top of the 9th, with fine plays by left fielder Tyler Holt on Ruiz, and then by Hamilton in center field off Cedric Hunter. Peter Bourjos then grounded to Votto for the final out.
Apr 4, 2016; Cincinnati, OH, USA; Philadelphia Phillies manager Mackanin watches from the dugout during the seventh inning against the Cincinnati Reds at Great American Ball Park. Mandatory Credit: David Kohl-USA TODAY Sports /
It was a nightmare scenario for the Phillies, receiving a strong starting pitching performance, but having that starter let down by inefficient offense and a bullpen blowup. Herrera, Franco, and Howard each left three runners on base. The Hernandez/Russell/Neris trio allowed five earned runs on three hits and three walks in that one pivotal inning.
The two teams will have a scheduled day off tomorrow, which was left in case of inclement weather today in a nod to Opening Day. On Wednesday night at 7:10pm it will be Aaron Nola on the mound for the Phillies against Brandon Finnegan for the Reds.