When do Philadelphia Phillies pitchers and catchers report in 2024?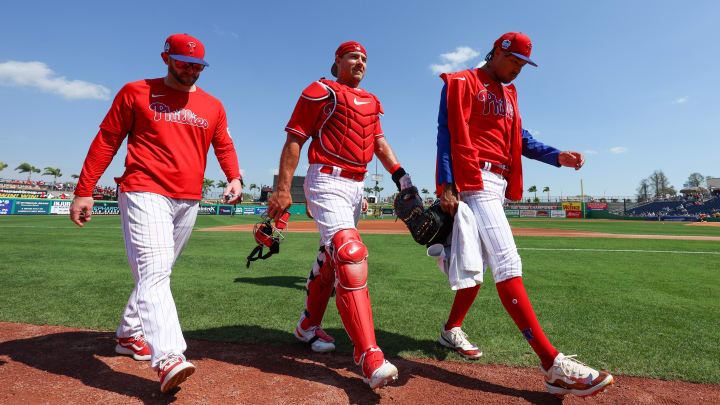 Philadelphia Phillies J.T. Realmuto and Taijuan Walker, Spring Training in Clearwater, Florida / Nathan Ray Seebeck-USA TODAY Sports
The World Series is over. The MLB offseason is officially underway. The Philadelphia Phillies couldn't get the job done this season, so let's start dreaming about next year and think about warmer days in the Florida sunshine.
After such an exciting yet disappointing season, many of us are left wondering how we're going to make it through the long winter months without the comfort of knowing there's Phillies baseball to watch. So, as we look ahead to the Phillies' offseason, how long do we have to wait for Spring Training to start?
When do Phillies pitchers and catchers report to Spring Training in 2024?
There is no hard date set yet, but what we do know is that Phillies pitchers and catchers will report to Spring Training during a three-day window in mid-February (it was Feb. 13-15 in 2023). Each team sets its own mandatory arrival date within that timeframe.
If you're wondering about the position players, they'll have a voluntary reporting date set 5-6 days later and a mandatory date about 10 days later.
Where is the Phillies Spring Training in 2024?
Like every other year, the Phillies will hold their 2024 Spring Training camp in Clearwater, Florida.
Their training camp will take place at the Carpenter Complex, where major and minor league players will get ready for the upcoming season at the Paul Owens Training Facility and the David P. Montgomery Baseball Performance Center.
The Phillies will host their Spring Training Grapefruit League games at BayCare Ballpark.
When do the Phillies start playing Spring Training games in 2024?
The official MLB Spring Training schedule is already available. Grapefruit League play begins Feb. 22, but the Phillies won't play their first game until Feb. 24, when they travel to Dunedin to take on the Toronto Blue Jays.
The Phillies will host their first Grapefruit League home game the following day, Feb. 25, when the New York Yankees visit Clearwater.
They'll wrap up their 31-game Grapefruit League schedule with a home game against the Tampa Bay Rays on March 25 before heading north to Philadelphia to open the MLB Regular Season on March 28.