MLB playoff format doesn't need to be changed, top seeds just need to play better
Complaints about the new MLB playoff format have been common dating back to the 2022 postseason. The format is not to blame, the underperforming teams are.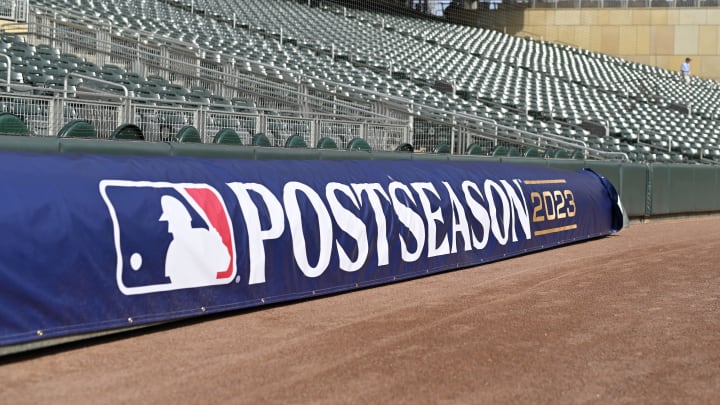 MLB Playoffs / Stephen Maturen/GettyImages
Does being the higher seed automatically mean a team is better?
The Braves finished the regular season with 104 wins — the highest total in baseball. The Dodgers finished with 100 wins — the third most in baseball. Both teams had very successful regular seasons.
The regular season, however, is a long and arduous journey, with injuries and fatigue accruing over time. The teams with the best records at various points of the regular season are not always the same teams when October rolls around. Once the postseason starts, teams are as good as the current rosters allow.
With Charlie Morton and Kyle Wright being injured to start the postseason, the Braves' rotation took a major hit. It's difficult for any team to win a postseason series with just two proven, successful starters.
The Dodgers are in a similar position as they have lost several starting pitchers due to injury, plus one to MLB investigative circumstances.
The Baltimore Orioles are coming off of a rebuild that has peaked earlier than many expected. They are a talented team, however, they are young and inexperienced. Postseason experience can be vitally important in tough series.
Can the MLB playoff formatting be fixed?
Does it need to be fixed?
There have been suggestions that MLB should go back to a single play-in game for the Wild Card teams. This would shorten the number of days off for the higher seeds.
This was also a flawed system for a number of reasons. Teams that clinched postseason berths at the very end of the regular season had less rest and a harder time setting up their pitching rotations.
In Korea, the higher seed begins the series with a 1-0 lead. That takes away from all dramatics and immediately puts the lower seed at a significant competitive disadvantage.
While the current format may not be perfect, it's unlikely that anything changes or gets "fixed." The new format is entertaining, and there are no rules in any sport that disallow for upsets.
Rosenthal makes a valid point in saying:
"No matter how baseball slices it, the postseason always will be a crapshoot. No format following a six-month regular season ever will be truly fair."

- Ken Rosenthal/ The Athletic
Each team in a postseason field has its strengths and weaknesses. It's up to that team to play to its strengths and for the opponent to expose its weaknesses. Perhaps the best fix is simply for the "best" teams to play better.