MLB playoff format doesn't need to be changed, top seeds just need to play better
Complaints about the new MLB playoff format have been common dating back to the 2022 postseason. The format is not to blame, the underperforming teams are.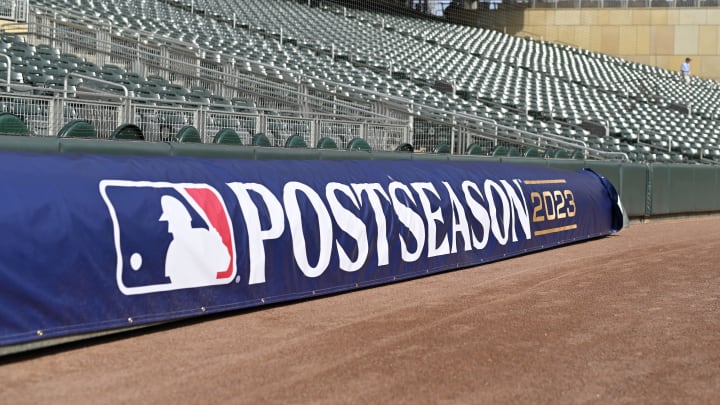 MLB Playoffs / Stephen Maturen/GettyImages
Argument 2: The layoff for the top seeds is too long
This argument may hold some validity, however, having extra days is a huge advantage in most cases.
A long layoff could cause some rust for teams that have not played in five or six days. Looking at the 2023 Division Series in each league, in three out of the four series, the higher seed started their series with a loss.
But can the layoff be to blame? Likely not.
Even before the new playoff format, teams have succeeded and won the World Series with extended days off between the regular season and the postseason.
The higher seeds have home-field advantage, which in most cases should be significant given that they have time to prepare without travel days. Regardless of the venue or city, playing on the road is more difficult. Just six teams in the AL and six teams in the NL had a winning record on the road during the regular season.
Players get tired from travel, opposing stadiums may be tougher to play in and players are away from their families and normal routines. In eight Division Series games played so far this season, the home team has only won twice — the Astros beat the Twins in the ALDS Game 1 and the Braves came back to win Game 2 of their NLDS.
The top seeds need to take advantage of playing at home. Ken Rosenthal of The Athletic points out that the lower seed, playing each game on the road, has won five of the eight Wild Card Series over the last two seasons.
Another advantage the top two seeds in each league have is that they can set their starting rotation as they please.
For example, the Braves could pitch Spencer Strider, while the Phillies had to go to their number three starter in Ranger Suárez because Zack Wheeler and Aaron Nola had to throw in the Wild Card Series. If not for the off days, the Braves would have had to start Bryce Elder, or someone else, in Game 1. Max Fried may still have been out with a blister; the extra days allowed them to put their best pitchers in place to win games at home.
While it's not a guarantee that a team's ace will always pitch well (see Clayton Kershaw), it is undoubtedly an advantage to the teams with a first-round bye.
NEXT: Does the MLB playoff format actually need to be "fixed?"