Making Hall of Fame case for Philadelphia Phillies legend Jimmy Rollins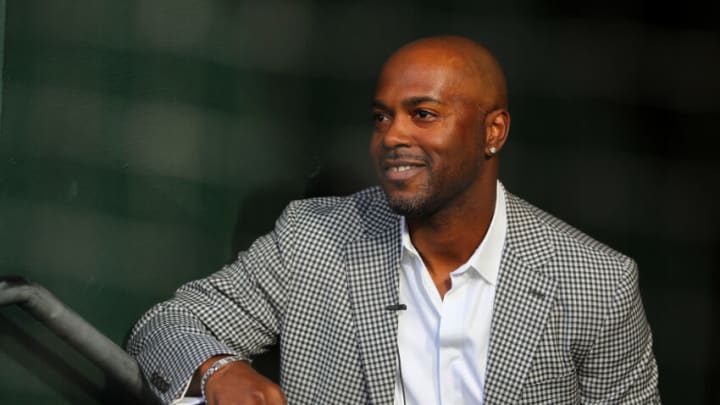 PHILADELPHIA, PA - MAY 04: Jimmy Rollins, former all-star with the Philadelphia Phillies waits for his introduction during his retirement ceremony before a game against the Washington Nationals at Citizens Bank Park on May 4, 2019 in Philadelphia, Pennsylvania. (Photo by Rich Schultz/Getty Images) /
Why Phillies legend Jimmy Rollins deserves to be in the Hall of Fame
In two weeks (January 24), the Baseball Writers' Association of America will announce the results of its 2023 Hall of Fame election. While Philadelphia Phillies franchise hits leader Jimmy Rollins will not likely be inducted on his second year on the ballot, I believe he will one day have his name called to Cooperstown.
I'll set my bias aside, as Rollins was my favorite player growing up, but I'll give you stats on why the writers should vote him in. Here are some Hall of Fame shortstops' numbers to see how Rollins measures up:
Ozzie Smith: .262 AVG, .337 OBP, .328 SLG, 2,460 Hits, 1,257 Runs
Luis Aparicio: .310 AVG, .399 OBP, .343 SLG, 2,677 Hits, 1,335 Runs
Pee Wee Reese: .269 AVG, .366 OBP, .377 SLG, 2,170 Hits, 1,338 Runs
Jimmy Rollins: .264 AVG, .324 OBP, .418 SLG, 2,455 Hits, 1,421 Runs
From 2000 to 2010, Rollins was hands down one of the best shortstops in MLB and certainly the best in the National League. Here is how Rollins ranks among shortstops who likewise dominated in that decade:
Derek Jeter: .312 AVG, .383 OBP, .448 SLG, 2,119 Hits, 1,199 Runs
Nomar Garciaparra: .308 AVG, .359 OBP, .497 SLG, 1,132 Hits, 580 Runs
Miguel Tejada: .294 AVG, .344 OBP, .471 SLG, 2,031 Hits, 1,031 Runs
Jimmy Rollins: .273 AVG, .328 OBP, .435 SLG, 1,714 Hits, 993 Runs
Only one of those shortstops is a Hall of Famer, but those four certainly dominated those 10 years at the position.
Rollins has an MVP award and a World Series championship to support his case. Even though Jeter won five World Series championships, he doesn't have a regular season MVP award to go with them.
Rollins was the reason the Phillies went on that dominant stretch from 2007-2011. He made the famous "team to beat" quote, and thanks to the collapse of the New York Mets, he was right.
Also of note:
Rollins has played the sixth most games at the shortstop position at 2,275, behind four other Hall of Famers.
The California native is a member of an exclusive club — the 20 home runs, 20 triples, 20 doubles, and 20 stolen base club, all while adding 212 hits in his 2007 MVP season. Only four other players are in that club, one of them being Willie Mays.
The shortstop position isn't known as a home run-hitting spot, but Rollins ranks third in home runs with 231. He sits behind Cal Ripken, Jr. (431) and Jeter (260). He also sits third in career leadoff home runs behind Rickey Henderson and Craig Biggio.
Thirteen players have 500-plus doubles, 100-plus triples, and 200-plus home runs in their careers. Eleven of those players are in the Hall of Fame. The other two are Rollins and Johnny Damon.
Rollins certainly has the stats to eventually get into the Hall of Fame. Statistics aside, he was a part of that core group to lead the Phillies on their five-year postseason run. Fans will at least always have that to cherish about "J-Roll."