Calum Scott, 'Dancing On My Own' singer, shows love to Phillies fans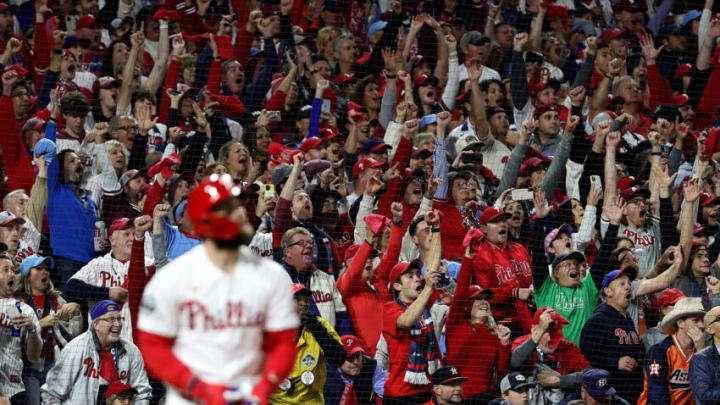 Fans react after Bryce Harper #3 of the Philadelphia Phillies (Photo by Tim Nwachukwu/Getty Images) /
'Dancing On My Own' singer Calum Scott thanks Phillies fans for their support.
Who else is still pinching themselves that the Philadelphia Phillies not only snapped an 11-year postseason drought, but reached as far as the World Series under first-year manager Rob Thomson?
Phillies fans made countless memories throughout Red October — among them is Calum Scott's "Dancing On My Own" catching on as the anthem following postseason wins and series clinchers.
The English singer and songwriter took to social media on Thursday to thank the Phillies and their fans for their support. The organization likewise showed its appreciation, replying to Scott: "Philly loves you back."
According to Scott's 2022 Spotify Wrapped, he jumped from 520.3 million streams, 60.1 million listeners, 27.6 million hours of his songs being heard, and 178 countries to one billion, 99.9 million, 50.6 million and 183, respectively. Undoubtedly, that significant increase is in large part thanks to Phils fans having the song on repeat through October and early November.
"Dancing On My Own" caught on in baseball circles during the 2021 postseason with the Boston Red Sox. Boston-turned-Philadelphia slugger Kyle Schwarber — who led the National League in home runs this past season — introduced the song to the Phillies clubhouse and the rest is history.
Phillies Nation's Destiny Lugardo recently tweeted a poll, asking whether the Phils should play the song after wins during the 2023 regular season. Nearly 70 percent of the 2,112 total respondents voted "no."
I tend to agree with the popular vote here. Let the song be a part of Red October and leave it at that. Arguably, maybe the song should never resurface again with the Phillies and let it just be a part of the magical 2022 season. Of course, fans still want Harry Kalas singing "High Hopes" after regular season and postseason wins, too.
Given the team's latest offseason rumor suggests that the club will sign a star shortstop this offseason — with the favorite being Trea Turner — the return of Red October next fall cannot come soon enough.